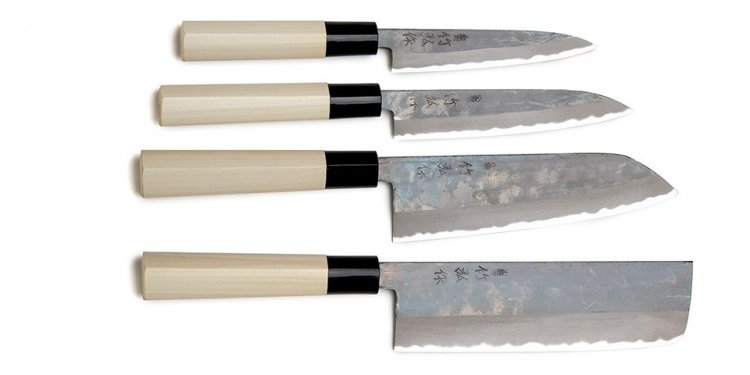 Best Knife Companies
You can talk to me about full tang, beveled edges, and soft steel all day long, but when it comes to buying a chef's knife, I really only have two questions: 1. How hard does it work? 2. How much does it cost?
Related Guide
The answers don't come easy. The world of chef's knives is full of alien terminology, staggering numbers of options, and lots of dollar signs. It's a rabbit hole, and it gets expensive—fast.
So my coworker Tommy Werner and I jumped in. We tested 14 different chef's knives made by various companies from across the world and at a number of different price points (the cheapest was $38; the most expensive clocked in at over $350). We had no parameters, no agenda—we just wanted to the best chef's knives at the best price. Maybe we'd walk away recommending 3 knives in different prices ranges, maybe one knife would rule them all, Lord of the Rings-style.
At the end of the testing, we came away with two solid recs: one high-quality chef's knife that's capable of anything in the kitchen, and a second, slightly more specialized knife. Here's how we got there:
Photo by Chelsea Kyle
I was most interested in identifying that first category of knife—the workhorse that everyone should own. We're talking about a blade that's sturdy enough for virtually any kitchen task thrown at it, but with enough comfort to make using it a pleasure.
I knew going into our testing that this would definitely be a "Western-style" knife. For the uninitiated, Western-style knives are equally sharpened on both sides, forming a beveled V-shaped blade. That beveled blade allows cooks to chop, dice, and slice by simply rocking the knife back and forth. (We'll get to why Japanese-style blades aren't ideal for this in a minute.)
A knife with a wooden handle like the Richmond Addict 2 ($170) was almost immediately disqualified—the wood handle and thin blade made for a knife that was too light—the blade simply didn't have the heft to make it comfortable for heavy-duty use. Plus, the minute a bit of oil hit the wooden handle, things instantly got slippery (literally).
Maybe a cheaper option like the Victornox 8" ($38) would make the cut? It tops many "Best Budget Knife" lists and the price is unbeatable. Ultimately, though, the thick plastic handle didn't feel sturdy enough and, rather than featuring a full tang blade that runs through the handle, the high-carbon stainless blade on the Victornox is simply slapped onto the top of the handle. Even though our testing sample was just out of the box, I could already envision the knife falling apart.
After testing a half dozen knives, there were only two real contenders left on the table in this Western-style knife fight.
I'll be upfront here—I fully expected to choose the Wusthof Classic 8" ($119) going into this test. It's the knife I've always used at home and one I personally feel most comfortable with. The field of Western-style knives was quickly narrowed down to my Wusthof and the Henckels International 8" Classic ($55). The knives share many similarities: Both are forged from high-carbon stainless steal, feature a full tang blade that runs the full length of the knife (rather than stopping at the handle), and a balanced heft. They're even similar in appearance—swap out one for another on your kitchen counter and you likely wouldn't be able to tell the difference.
But use the knives side-by-side and you'll begin to pick up on a subtle, but key difference. I found that the slight tapering of the blade at the tip of the Henckels lead to a better feeling of control when performing basic chopping and dicing. At less than half the price of the Wusthof (thanks to the fact that Henckels knives are perpetually marked down at major retailers), the Henckels possessed the perfect balance of heft, confidence-inspiring precision and price.
Photo by Chelsea Kyle
Why would I ever need a Japanese-style knife?
That's the question I asked myself for years before finally picking one up for the first time. I was dubious, because Japanese-style blades aren't double-edged like their Western-style counterparts—they're sharpened only on one side, making them suited for precision slicing (think sushi) and ill-suited for, say, butchering a chicken.
But a second category of Japanese-made knives exists—an East-Meets-West hybrid that features a double-edged blade, but one that isn't even on both sides. Instead, the blade is honed at a specified ratio: In our testing, 70:30 was the most comfortable to use (and, conveniently, the most commonly available).
As soon as I used one of these knives, I started asking myself a different question: "Why does everything this knife touches turn to butter?" Or at least that's how I felt when I picked up the Misono UX10 Gyutou ($199) chef's knife. Everything from slicing radishes to butterflying a chicken breast felt completely effortless. It was as if the knife was one step ahead of me, as if it somehow knew where I wanted it to go next.
The real selling point, though, is that the Misono is made from Swedish stain-resistant steel. This makes the cleaning of the Misono significantly less insane that its carbon-steel brethren, which require thorough wipe downs and an aversion to acidic foods like tomatoes and citrus to prevent pitting and corroding.
I tried other less-expensive hybrid-style Japanese knives like the Susin High Carbon Steel Gyotou 8" ($99) as well as those in the same price range like Shun's 8" Classic ($180): None surpassed the Miono. The Miyabi Artisan SG2 8" ($250) is a looker thanks to its dramatic Damascus-textured blade, but, as with my earlier experience, its Rosewood handle proved slippery as soon as olive oil got involved.
Share this article
Related Posts