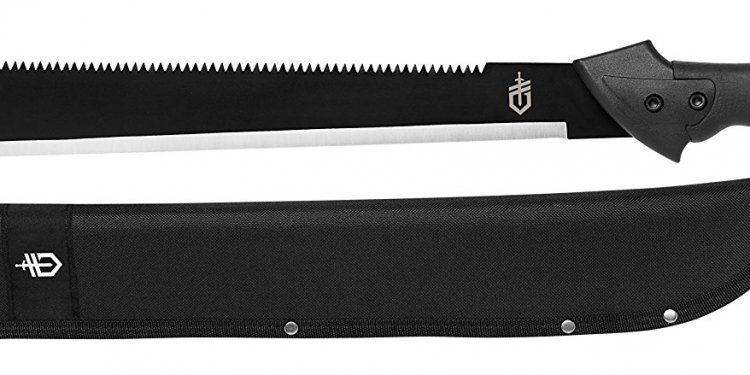 Gerber Knives Machete
The Gerber Gator is advertised as a long bladed dual function machete that can easily clear brush and chop or saw through branches. Admittedly when I ordered this blade online I did little research beforehand. I have purchased many Gerber products in the past and felt the Gator would live up to my expectations like the many Gerber knives in my collection. I wish I would have read some reviews beforehand because this machete actually turned out to be a real disappointment.
Duel Edged 15 Inch Blade
Saw Function
Unique Design
Ergonomic Handle
Black Oxide Coating
Riveted Nylon Sheath
Lightweight (16 oz.)
Good Balance
I will start by reviewing the good points of the Gerber Gator. I found the ergonomic Gator grip handle to be one of the most comfortable I have ever come across. The grip is solid and secure while being surprisingly comfortable as well.
The balance of the Gerber Gator is also very good. When you are holding the machete you have a strong feeling of control over the blade. I think the Gator's controlled feel to it is due to a combination of being lightweight, well balanced and having a comfortable ergonomic handle.
The sheath that comes with the gator is a sturdy 400D riveted nylon reinforced sheath. It provides safe transport and serves its purpose well.
Ok, now onto the down points. I don't like to trash Gerber Knives as I still think they are a good company in general but they definitely messed up this time. The tang on the Gerber Gator machete is simply horrible. A quarter tang is holding the blade in place, for those of you that don't know that means a mere 2 1/2 inches of metal is securing the handle to the blade. That will not only increase probability of it breaking, it also means the Gerber Gator is a safety risk in my books. I would NEVER swing a 18" machete full force when it only has a quarter tang, its an accident in the making.
Another main problem with the Gerber Gator machete is that it has under average chopping power even after being sharpened. This blade was advertised as being able to do it all but yet my standard Ontario machete can chop twice as fast and offers significantly more chopping power. I suspect the Gerber Gator's lack of chopping power is due to its lightweight design. Although being light adds to control and helps the balance the chopping power is affected in a negative way. The blade is flimsy which might have something to do with its lack of chopping power, it could definitely use some stiffening up.
My other problem with the Gerber Gator is that the saw is very dull! It doesn't saw nearly as fast as it should. Although its definitely better than nothing there is lots of room for improvement. I really don't understand why Gerber would leave the teeth so dull. On the upside the teeth saw in both directions which is good, I'm sure it could saw quickly if it wasn't so dull.
I would like to point out how deceitful knife companies can be when they overstate the capabilities of their products! Gerber is not the only company to do this, Cold Steel has been known to do the same thing. The best form of buyer protection is to ALWAYS check product reviews and make sure everyone is happy with the product in question.
So there you have it, my review of the Gerber Gator Machete. This blade has its ups but its mainly all downs. It might be good for clearing small brush or hacking a path through the woods but don't buy the Gator if you need to do a lot of chopping, keep that for the heavier, beefier, more solid machetes. If you are buying a survival machete DO NOT purchase the gator I promise you will be very disappointed as I was.
There are definitely many better options out there but if you have your mind set on buying the Gator at least you will know what to expect.
For pricing information click here:
Gerber Gator Machete
Specifications
Manufacturer:
Gerber
Category:
Machete
Blade Length:
15''
Total Length:
25''
Blade Composition:
Surgical Stainless Steel
Handle:
Tactile Rubber Grip
Warranty:
Yes
Price:
$25-45 USD
Overall Rating:
1.5/5 - Very Bad
Share this article
Related Posts