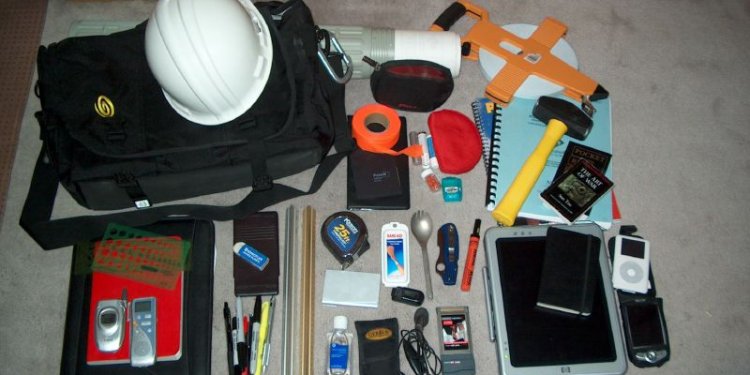 Gerber Knives Careers
Gerber Legendary Blades: Gator Folding and
Freeman Exchange-A-Blade Hunting Knives
By Jack Seeling and Chuck Hawks
Gerber is one of the most famous names in American cutlery. From their famous, silver aluminum handled carving knife sets to the best in outdoor knife technology, such as the pair reviewed here, Gerber knives are famous for holding a keen edge.
Joseph Gerber, whose first career was in advertising, founded Gerber Legendary Blades. The story goes that one Christmas Joseph ordered 25 sets of kitchen cutlery from a local Portland knifemaker to use as gifts for important clients. The knives were so well received and became so popular that in 1939 Joseph Gerber left the successful advertising agency he had started in 1910 to found Gerber Legendary Blades.
Gerber Legendary Blades is now a Fiskars Brands Company, but they still manufacture a good part of their knife line in Portland, Oregon U.S.A. Other Gerber knives are manufactured overseas to Gerber design and specification. Foreign or domestic, Gerber knives are covered by their Limited Lifetime Warranty, which basically says that Gerber will fix or replace any knife that proves to be defective due to workmanship or materials for as long as it is owned by the original purchaser.
To avoid having to write it twice, let us state up front that both Gerber test knives were sharp right out of the box. The Gator was sharp enough to shave hair off your arm; the Freeman was nearly, but not quite, its equal. Either could be taken directly into the field and used to field dress a deer.
Having owned Gerber knives in the past, we also know that it is fairly easy to restore a proper edge to their flat-ground blades when they become dulled. Unless you let the blade become really dull, a few swipes across an Arkansas stone is all that is required. (Never let any knife get dull; it's much easier to touch-up a blade than to completely re-sharpen it.)
To prove the point once again, we gave the Freeman's fine edge blade (the slightly less sharp of the two on arrival) a fast touch-up. With maybe a dozen strokes across a hard stone on each side of the blade it emerged sharp enough to easily shave hair off an arm, and it could cut neat little curls from the edge of a piece of note paper. (Common, if old fashioned, tests of a blade's sharpness.)
The bottom line is that Gerber blades are sharp as well as strong, and relatively easy to keep sharp. If you want to cut something, the appropriate Gerber Legendary blade will get the job done.
Freeman Exchange-A-Blade (Model #22-07169)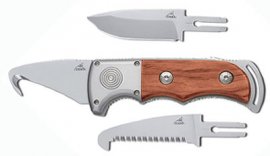 Illustration courtesy of Gerber Legendary Blades.
Jeff Freeman, a native of Sweet Home, Oregon, designed this interesting straight knife. Trained by the Army as a machinist and toolmaker, after leaving the service he got a degree in manufacturing engineering at Oregon State University. Jeff Freeman is now a Senior Mechanical Engineer at Gerber.
Gerber bills the Freeman Exchange-A-Blade (hereafter "FEAB") as "the ultimate hunting tool." It is a hunting knife that comes with three interchangeable blades, in this case a drop point knife blade, gut hook, and blunt tipped saw blade. The FEAB Model #22-07195 is the same knife, but substitutes a slender boning blade for the gut hook blade. (Suggestion: why not collapse the two models into one and supply all four blades with each knife?)
Designed in Oregon, the FEAB is produced in Taiwan. Gerber has an unusual pricing policy, listing a price range within which they think a given model should be retailed. In the case of the FEAB, Gerber suggests between $85 - $150.
With the exception of its lacquered pear wood handles, the FEAB is made entirely of matte finished, high carbon stainless steel. Blades are interchanged by depressing a large, flush, button in the left bolster and simply pulling the blade straight out of the handle. It couldn't be simpler. Due to extremely precise machining, the blades fit our test knife with absolutely no play at all. The tolerances are so close that, with a blade installed, it is very difficult to tell that this is an interchangeable blade knife.
Each blade's tang measures 1 9/16" long. Installed in the handle, the fine edge drop point knife blade measures approximately 3 5/8" long with an actual cutting edge of 3 1/2", the saw blade measures 3 9/16" long (with a 2 7/8" toothed area), and the gut hook is a handy 2 1/8" long. We measured the thickness of the blade stock as 0.115" thick with a digital caliper. The knife weighs 11 ounces.
The gut hook came sharp enough to be easily pulled through a piece of notepaper. It'd make a heck of a letter opener! And it would open up a deer just as neatly.
The saw blade was manufactured with two staggered rows of slightly curved, very sharp, teeth. We didn't have any fresh bones handy, but it looks as if it would do the job. The end of the saw blade is rounded to prevent inadvertently puncturing something better left intact.
The handle consists of two nicely curved and finger grooved pieces of pear wood fastened to the stainless steel tang with a pair of Allen head bolts. The underside of the stainless steel tang is grooved for a secure grip, as is the top of the drop point and gut hook blades where you might use a thumb to apply extra pressure. At the end of the handle is a lanyard loop. Most important, the knife feels good in the hand. The handle provides a secure, ergonomic grip, a typical feature of Gerber knives.
The supplied black ballistic nylon sheath uses polymer inserts to insure the security of the blades and the safety of the wearer. It holds the knife with the drop point, fine edge cutting blade installed. There are two extra built-in slots for the saw and gut hook blades. There are straps with snaps...
Share this article
Related Posts