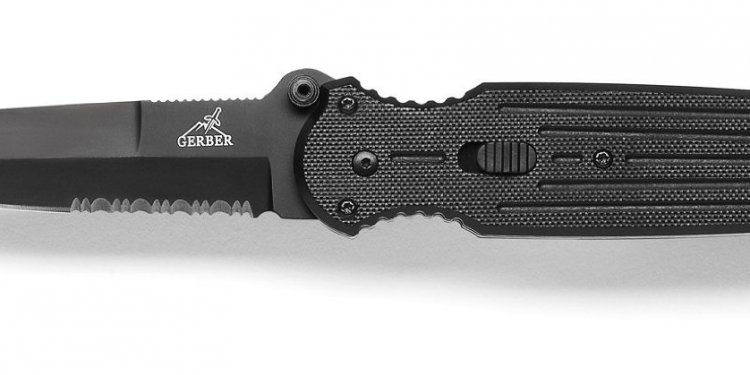 Gerber Knives Review
Applying this logic to survival knives, it's usually a good idea to have a large workhorse fixed-blade for heavy-duty tasks like chopping wood. This might take the form of a machete, parang, kukri, hatchet, or even just a 6-inch fixed blade on your hip. This means that your secondary knife can be something smaller, lighter, and possibly even concealable elsewhere on your body. Such a blade could be used for skinning game, carving traps, or as a last-resort self-defense tool.
Subscribe Today and Save!
Disclaimer: This should be common sense, but know your local and state laws before carrying any knife, especially a concealed fixed blade. Knife concealment laws vary, so we recommend double-checking them for your region before making any purchases.
The Gerber Ghoststrike Series
With over 70 years of experience producing knives and tools, Gerber understands the need for an ultra-light and discreet fixed-blade knife. Given this philosophy, the company recently launched a line of blades called the Gerber Ghoststrike series. The blades are described as "a three-piece self-defense system designed for discreet carry in any environment." This sounded ideal for our secondary blade needs described above, so we requested a set to test and review.
The Ghoststrike series is composed of three models:
Technically, it's a three-piece system, but with two blade designs: push dagger or fixed blade. The Deluxe option simply provides a different carry style, which we'll discuss more later on.
Technical Specifications
Unsurprisingly, the three models in the Ghoststrike family have a lot in common, so we'll address these shared qualities first before moving on to differences.
The heart of each one of these blades is a piece of 420HC. It's a good steel with excellent corrosion resistance, but honestly wouldn't be our first choice due to its mediocre edge retention. The Ghoststrike blades are all designed here in the USA, the steel is produced in the USA, and the blades are manufactured in the USA. Right off the bat, that's a good sign. Better yet, Gerber offers a Full Lifetime Warranty against defects in materials or workmanship. Knowing each blade is American-made and warrantied for life goes a long way to build our confidence in the product.
Nevertheless, these knives are much more than just plain steel. Each features a full-tang handle, which has been skeletonized to reduce weight as much as possible. The entire blade is coated with a corrosion-resistant and scratch-resistant black ceramic coating. Next, the handles are then coated again with a black rubberized overmold, which has a diamond texture and jimping along the finger grooves for improved grip.
Each Ghoststrike knife comes with a glass-filled nylon sheath, which is ambidextrous, allowing the knife to be inserted while facing either direction. Each blade also has a pair of small notches on the spine and belly, just forward of the end of the handle. These notches serve as part of a dual detent mechanism when the knife is inserted into the sheath, locking in place with a firm and audible click. The detents provide plenty of resistance to keep the blade in place, but also release quickly with a firm pull on the handle. There's no fiddling with a lock button or release lever—just pull the handle to draw.
Here are the remainder of the technical specs for each blade design:
Punch Knife:
Blade Length: 2.5 in
Overall Length: 4.8 in
Weight (with sheath): 3.0 oz
Weight (knife only): 1.8 oz
MSRP: $53
Fixed Blade & Deluxe Fixed Blade:
Blade Length: 3.3 in
Overall Length: 6.9 in
Weight (with sheath and ankle wrap): 5.5 oz
Weight (with sheath): 3.5 oz
MSRP: $59 (standard) or $83 (deluxe)
Note: These weights are less than those listed on Gerber's web site. We weighed each knife on a scale, and found them to be slightly lighter than advertised.
Gerber Ghoststrike Punch Knife
After removing the Ghoststrike punch dagger from its packaging, we placed the included 13.5-inch-long paracord lanyard around our necks, suspending the knife comfortably atop the sternum bone. Grasping the handle between one's fingers and giving it a quick downward tug unsheaths the blade, producing an audible click as the detent snaps out of place.
The dagger is surprisingly light and comfortable in hand, with the semi-circular handle providing leverage against the palm. It's easy enough to manipulate for cutting and slicing tasks, but the true purpose of this design is a firm forward thrust. When used in this manner, the blade easily punctured targets, and didn't leave the user with a sore or bruised palm.
Ergonomically, this blade is solid, and it does exactly what you'd expect of a push dagger. However, it's worth noting that it is only a single-edged design, where a majority of other push daggers are double-edged. While this may be a small drawback for directional slashing motions, it also keeps the knife from being prohibited in states that disallow carrying certain double-edged blades (for example, Michigan).
As for the sheath, we honestly couldn't ask for a better retention mechanism for a neck knife. It's secure enough to stay in place while running, and has zero rattle, wiggle, or play. When you need the blade, it can be drawn easily at a moment's notice. The sheath is definitely better-suited for use on the neck lanyard, but it can be mounted vertically on a belt.
Gerber Ghoststrike Fixed Blade
The Ghoststrike fixed blade is longer and narrower than the punch knife, with an overall length of just under 7 inches. The handle features a large forefinger groove, and a guard that prevents your fingers from slipping forward onto the edge. As with all Gerber Ghoststrike blades, the rubberized handle coating also reduces the risk of fumbling the knife with wet hands.
There's also a slight depression on the blade's spine, which creates a flat spot for thumb placement. In combat, this "thumbs-up"-style grip is often called the Filipino grip, and it's used extensively by martial artists. Outside of combat, it provides extra leverage, and leaves the user feeling as though the blade is a natural extension of the hand. For both these reasons, we're glad to see Gerber clearly accommodating this well-known grip in the Ghoststrike blade design.
The fixed blade's glass-reinforced nylon sheath includes the same great dual-detent retention as the push dagger. It could still conceivably be worn as a neck knife, since it's extremely slim and lightweight, but we preferred wearing it on a belt. By re-configuring the included belt mounts, the knife can be worn either horizontally or vertically. With the knife mounted horizontally at the 6-o'clock position, it can be easily concealed by the tail of a shirt, and doesn't get in the way as you move around.
Gerber Ghoststrike Fixed Blade Deluxe Kit
In addition to the sheath and belt mounts found in the basic kit, the deluxe kit offers an adjustable neoprene ankle wrap. This wrap is comfortable, lightweight, and low-profile enough to be hidden easily by a pant leg or boot collar. We will note that the wrap is made in China, but the stitching quality and materials seem durable.
Share this article
Related Posts