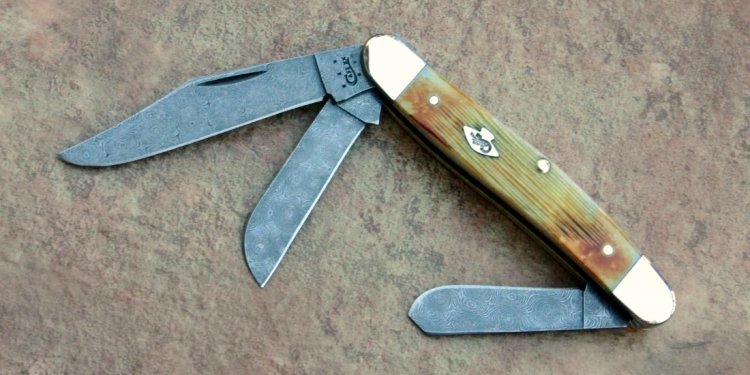 Case knife steel
Quality vs. Quantity
Nothing divides the collecting community as much as the argument of Quality vs. Quantity. Of course we all want is a big collection of expensive high quality knives but realistically most can't take out a second mortgage to acquire such a collection. So the next question is: Do you want a big collection of inexpensive knives or a small collection of expensive knives?
I suspect that most people start out collecting less expensive knives and become more selective as their collection grows. As you become more discerning in your collecting you will start paying more attention to fit and finish of new knives. You will also consider such things as the quality of the knife steel, and types of materials used for knife handles. You may find yourself collecting a specific brand, such as only Queen or Spyderco, or you may start collecting just a certain pattern such as Trappers. Or perhaps even limit your collection to just Custom made knives! This isn't uncommon, however most knife collectors to dabble in several areas and only after time to they realize they collectly mostly, a specific knife brand or pattern.
However, as you first start collecting and are initially faced with the quality vs. quantity debate, there are well established myths you will come across. Most of the myths concern American made knives vs. imported knives; particularly Chinese imports. These claims should be faced with skepticism. If you refuse to by imports based on political or personal beliefs, then you can pretty much skip the rest of this section.
For those who are interested, We'll look at the import myth by comparing the American made Case knife with a popular Chinese made name brand, Rough Rider. and to make full disclosure to you, I am a collector of both Case and Rough Rider knives. I maintain a web site devoted to independent reviews of Rough Rider knives.
Myth #1 - Chinese steel is no match for American steel. There is no more hotly contested argument than the quality of American vs Chinese Steel. The same argument was made about Japanese steel 30 years ago. Today, Japanese steel is often renowned for a quality rivaling German or American steel. Case Tru-sharp blades are made with steel equivalent to 420HC stainless. This is the steel is also used in many Buck knives and some knives made by Queen Cutlery. Most consider this steel about the same quality as the 440A stainless which is used in knives manufactured by Rough Rider and Frost Cutlery. The usual claim is an unfounded remark stating that there are more impurities found in Chinese made steel. So long as you're buying from a well established brand name, your knife blade should live up to the reputation of the company. All of the above mentioned knives have a Rockwell hardness test of around HRC 56-58.
Myth #2 - American knives are made to last a life time, Chinese made knives are made to last a year. Could this be true? Who knows? The facts are. W.R. Case knives have been around for around for over 100 years but you'r enot going to find a lot of 100 year old Case knives in pristine condition. Few knives are going to be used for a lifetime and remain in mint condition or as good as the day it came off the production line. There are vintage Case knives that are renowned for their quality. Some collectors feel the quality of Case Knives has fallen off in recent years as Case has turned to the collectors market and not the user market. We won't really know about vintage Rough Riders for another 20-30 years. In the meantime, most people feel the quality of Rough Riders improve with each passing year and the knives remain affordable. Today, many Case knives are bought and not used. This means that plenty of these knives will still be around in excellent condition for years to come. Their value will not increase as quickly or as much as previous generations that were bought and used.
Myth #3 – W.R. Case makes the best traditional pocket knives. Yes it is a myth. In truth, however, they are a good benchmark that other brands of traditional folders can be measured against. My suggestion for the novice knife collector of traditional pocket knives: Try to acquire at least two or three Case knives in your favorite patterns for your collection. See how less expensive and more expensive knives stack up against your Case knives of the same pattern and decide if the difference in price is acceptable to you. You might be surprised or disillusioned.
While. I've talked about Case and Rough Rider, the same arguments can be made for any competing brands, Spyderco vs. Gerber or SOG, Great Eastern vs. Queen, Smith & Wesson vs. Colt, etc. You might be surprised to find out that you can get decent quality knives for less than you thought. Or you might discover that you're willing to pay a steeper price for a higher quality level. because there is no doubt an established reputation will always play into the resale value of a knife.
In the end, what you want as a collector is to buy knives you can afford. It is up to you on if you want to buy three or four $10 knives a month or one $40 knife a month. It is also up to you to decide if you're getting better a better value for your money buying the three good knives for the price of one better knife.
Return to Index/Main Page
Share this article
Related Posts