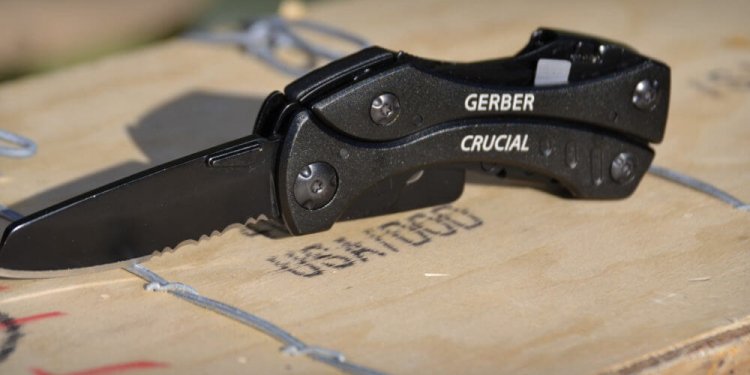 Best Gerber Multi Tool
Created with Sketch.
Advertisement - Continue Reading Below
Test Results
The Ripstop contained the smallest and least effective scissors of the bunch. It took four cuts to hack the duct tape, and we had to squeeze with considerably more pressure than with the others.
The saw was also disappointing. The short, stout blade was hard to get started, jumping around and then binding in the kerf. It eventually dug in and made the cut, but was slow going. The pliers, on the other hand, were great. Removing construction staples with them was quick and painless, and the ergonomic grip was easy on the palms, even when squeezing firmly. When clamping the bike brake, spring action in the handle made re-adjusting grip less of a hassle.
Overall Design
Like the saw and scissors, all the blades on the tool are short and stout. But when used as pliers, a wide 3-in. splay at the base of the handles would make these ideal for larger hands. The blade lock, also a slider, operates more easily than the FliK. Generally, though, the tool works best as pliers. The other components-the screwdrivers, blades, and everything else inside the tool-seemed like an afterthought, and lacked the ingenuity of the pliers' generous grip.
CLICK FOR MOREPM's Multitool Face Off
-> -> -> ->
With the SwissTool, a pair of scissors on the smallish side required three cuts to slice duct tape, but outstanding spring action in the grip made snipping a pleasure. The long saw blade was tough to get going and binded quite often, but eventually cut smoothly.
Slightly rounded edges made the pliers' grip downright comfortable, and we removed staples from red oak with ease. We held and pulled the bike cable with no slippage at all-after starting the front wheel spinning, we were able to yank the cable and bring the tire to an abrupt halt.
Share this article
Related Posts