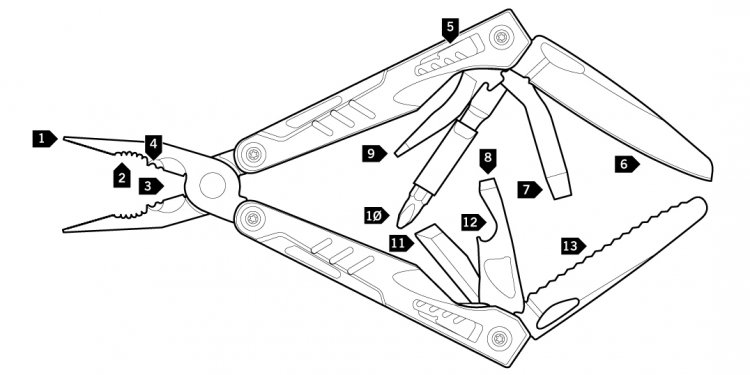 Gerber Multi Tool case
Disappointing. The jaws are very week side to side.
I like to break zip ties instead of cutting them.
I grab them with my pliers and twist until the zip ties break.
The cheap Leatherman Blast will do this all day long no problems.
The MP1 just twist and now there is some much play.
I only carried it for a couple months, too weak, went back to Leatherman.
The knives are nice but I don't car about knives, I carry a knife for a knife.
After using the bit driver on some tight stuff its now loose.
When will Multitool companies come up with build your own design.
I just want a great pair of pliers, replaceable saw, and a bit driver the rest is fluff.
Looks great and the functionality would be awesome if the tools weren't made of inferior and weak materials. I really can not stand behind this item as a professional grade tool. The slightest amount of torque and the screw driver blades twisted. Tip of knife blade snapped off when attempting to peel up the corner of a sticker. Magnetic bit holder broke like a dry twig when a small amount of lateral force was applied and the last failure I just now experienced was one of the Torx screws that holds the body together just snapped off after a small drop. On the plus side the warranty service has been awesome. No questions asked complete replacement. That's weeks without a tool that I paid a premium price for.
Bought this multi tool because I don't need 22 different tools and this tool seemed to have the basics that I would use daily. I Agree that scissors would be nice but not a deal breaker for me. My only complaint it how loose some of the tools are. The bit driver has a lot of play in it when in the closed position and will swing out with little or no assistance. Really wish it was alittle more secure. Besides that I am very happy with this product.
I work on medical equipment from life support to exam tables. Used Gerber since my military days in the late 80's. l pull around an $800 tool case full of tools but nine times out of ten I go to the Gerber. I love the functionality of this tool. It's main flaw is the strength of the materials used for the drivers and blades, not as strong as the sportsman I was used to. That being said I was very impressed with the warranty service. After damaging two driver tips and the knife blade I sent it in for repair. Gerber sent me a brand new unit within two weeks of me shipping mine out. Good job!
It needs a file, or scissors instead of 3 knives, "You don't need more tools—you need the right tools." 3 knives sounds like someone at gerber chose the wrong tools.
I've used Gerber tools since the 1990's. Was very excited about the MP1. I like the features and the setup and do believe there should have been scissors. I am disappointed though at the quality, in particular the strength of the materials used. The tip of my knife blade bent and broke off after two weeks and the small flat head did the same thing.. I'm used to using my Gerber for everyday work, sadly the very expensive MP1 can't handle it.
Would give this one a try but no scissors, no saw not a chance.
Needs to have bit kit. Why only offer this for the MP1-AR tool and not the MP1?
This tool is a great tool.but the plier is a little weak for my application. would like to see the blunt nose plier on this model then i would have no complaints.
Color me impressed, the MP1 is a very nice multi tool. I find the fit and finish to be a step up above Leatherman (trust me, I've been looking for that perfect multi tool), and the big beefy external tools are not something you usually see on a multi-tool.
Only complaint: the end of the pliers have some play due to the pliers being spring loaded. The plier pivot cannot be extremely tight, if so, the internal plier spring could not function.
I love the shape of the main blade, and feel like it can replace a standard pocket knife.
The G10 is fantastic, but I would like to see less plastic/polymer trim used.
I'd compare the MP1 to a Leatherman Wave, and I'd choose the MP1 for these reasons: smoother operation, better fit and finish, blade shapes, utility knife, pry bar, G10, easier tool access, load out, and cool factor.
Its an OK tool, but 3 things need to change:
- Change out the serrated blade for a saw,
- Move the bottle opener in place of one of the flat screw drivers, making the pry tool a lot more sturdy,
- And Replace the other screw driver with a nice can opener
Since this has a standard bit driver, no need for 2 separate flat head drivers. And 3 blades???
This is a nice multi-use tool for anything. I really like the screwdriver tip being interchangeable making it more useful than the run of the mill multi tools out there on the market. Blades are sharp, pliers work nice and smooth...the warranty is not bad either. Get one to keep in your pocket, tool belt, work truck or even under the kitchen sink for all those tasks that do not really require the whole toolbox to come out.
It looks like you finally made drivers long enough to be useful. It doesn't look like it's $115 bucks worth of useful when compared to an all American multi tool such as a Leatherman which would be cheaper. (Assuming assembled in USA for this product is a way of not saying that it's components are foreign. Either way price point is ridiculous given the other options out there.)
In addition to my previous critical notes which counted 3 drawbacks, I regret to add another one: when plain blade fixed open, the fixator of the tools in this handle could not be locked to the outermost position (though the blade itself is fixed firmly) and the other tools of this handle (screwdriver bit holder and 2 large/small flat drivers) hanging out loosely about 15 mm off the handle at the utmost point - this hardly helps comfortable working.
Share this article
Related Posts