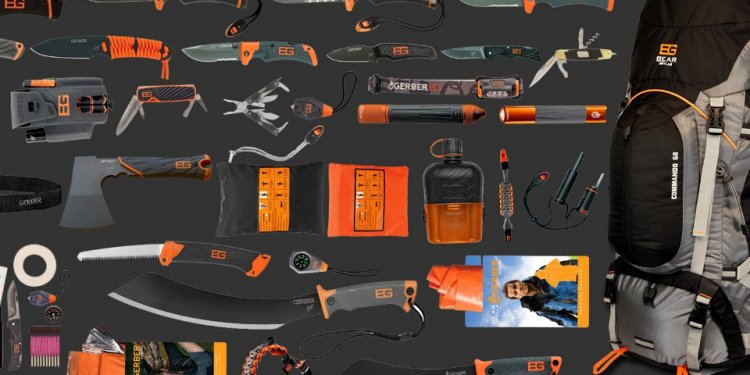 Bear Grylls Gerber
Surviving the unexpected is about being prepared, and the Bear Grylls Card Tool exceeds the standard. Few people know more about survival than Bear Grylls, ex-British Special Forces officer, experienced mountaineer and respected survival trainer. Taking advantage of Gerber's decades of experience and Bear Grylls' adventure knowledge, the Card Tool design gives its user the ability to engage with the surroundings in perpetual survival mode.
SURVIVAL IN THE CITY AND THE OUTBACK
Everything required for endurance in the wild, or in the city: The Bear Grylls Card Tool, for all-in-one problem-solving. Rugged, steel backed construction is the basis upon which this Card Tool innovates. The 1.5-inch fixed blade fine edge knife removes easily from the Card Tool with an ergonomic finger hole and nail nick for easy application. At the opposite end, 3 tools are held securely in place: a Phillips and a flat driver alongside a compact ferrocerium rod, to make tightening screws and starting fires the work of an instant. Apply the ferrocerium rod to the back edge of the knife to produce a fire-starting spark.
EFFECTIVE TROUBLE-HURDLING TOOL
In addition to the fine edge knife, two drivers, and ferrocerium rod, the Bear Grylls Card Tool comes equipped with a water-resistant LED task light, metric and standard rulers, and a bottle opener, all usable without removal from the card. The Bear Grylls Card Tool: totally effective as a means for hurdling trouble in any environment. And at 3.4 x 2 x .3 inches, it's an obvious inclusion as a daily pocket carry. The Bear Grylls Priorities of Survival Pocket Guide is included with this tool, furthering its usefulness and potential life-saving utility.
Share this article
Related Posts