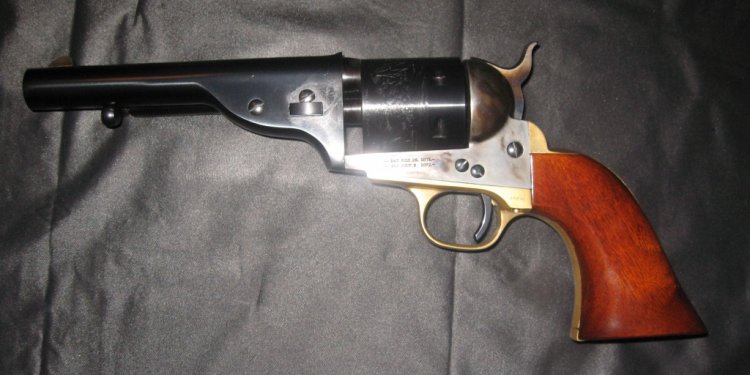 Colt Collectibles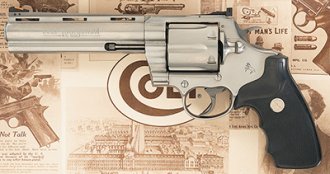 Diamondbacks are also in high demand currently, especially those revolvers in smaller calibers, shorter barrel lengths and nickel finish. Less than two years ago, a major auction house sold a pair of consecutively numbered Boas with 4" and 6" barrels for an unprecedented $14, 160. A dealer polled for this article said he just sold a similar set of non-engraved Boas for more than $30, 000. Anacondas have at least doubled in value during the past five years, and both Cobra and King Cobra values have also increased significantly. Even the barely toxic Viper, which is considered the red-headed cousin of the snake family, has quadrupled in value since 2010.
One severely afflicted victim in the final stages of this debilitating, snake-venom-induced disease was so delirious, he actually submitted a winning auction bid of $41, 026 (that's not a typo) for a "new-in-box" non-engraved stainless Colt Combat Python with 3" barrel. It was one of only 19 made for Harrison Carroll and longtime Colt dealer and author Carol Wilkerson in 2004. When contacting Wilkerson after this item sold at gunbroker.com, her text message came back quickly, "Amazing, huh? Someone is nuts. I sold those guns for just over $1, 000 when new."
The Rarity Factor
Considering Smith & Wesson introduced the .44 Mag. cartridge in its pre-Model 29 (five-screw) during 1956, Colt's last snake, the Anaconda, finally got to the party much later in 1990. The big brother of the Python, the Anaconda utilized the transfer bar safety system and all revolvers were supplied with combat-style black neoprene stocks. Original numbered boxes always help the value of any gun. At a recent auction, this gun finally hammered for almost , 600, including the buyer's premium.
With most factory-catalogued snake gun variations, rarity has not been a major factor.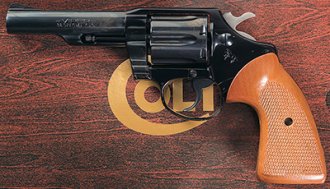 More than 100, 000 Pythons were manufactured between 1955 and 1969, and the great majority of them were in Royal Blue (nickel finish was added in 1962) with either 4" or 6" barrels—not a lot of variations. As a comparison, almost 52, 600 SAAs were made during the same time period. In 1960 alone, Python production topped 16, 000 units. That's approximately three times as many revolvers as all the pre-war S&W .357 Registered Magnums that were custom-ordered. So, most Colt snake guns cannot be considered rare. However, shorter barrel lengths, limited-production calibers, optional finishes and other non-standard features do add to a snake gun's rarity (and value). Moral to the story—during this 15-year time span, almost twice as many Pythons were manufactured as were SAAs (with a lot more variations), yet the value of the SAA is 60 percent less now.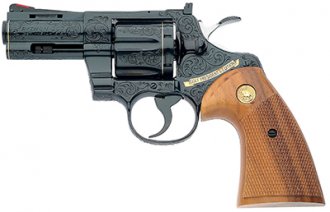 The previously undervalued Viper, a one-year failure on Colt's family tree, is now a bonafide member of the Colt collectibles club due to the elevated status its relatives have recently achieved. Five years ago, boxed Vipers like this were selling for , 000—now they're commanding more than , 500.
The Hollywood Effect
Despite recent popularity in the collector's marketplace, snake guns certainly can't brag about being a major media darling in the past. Yes, a Python was used in the 1970s television show "Starsky and Hutch" and also appears in "The Walking Dead." It is also featured in the video game "Call of Duty: Black Ops." But while there's been some exposure on the silver screen, no single movie appearance has ever created a major spike in snake-gun demand. Remember how values skyrocketed on S&W Model 29s almost overnight once Dirty Harry started ventilating bad guys with his? Then semi-automatics were hot for a while, including the Auto Mag and especially the .50 AE Desert Eagle. Many movie moguls back then preferred a brutish hand cannon to wow the audiences, and the Python to them represented a refined target pistol in an anemic onscreen caliber.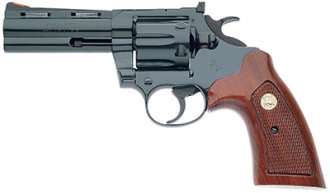 Of Colt's seven "serpents, " Pythons remain among the hottest and most desirable. This Custom Shop "Colt President's Edition" was specially ordered for Colt's president, Gary French, during 1988. Factory gold inlays always make a dramatic value increase in any Colt revolver, and this one has been initialed by Master Engravers Alvin A. White and Steve Kamyk, making it a truly unique Python.
Values on snake guns, mostly Pythons and Diamondbacks, gradually started going up approximately eight years ago. Nice Pythons had been stuck in the $1, 000 to $1, 200 range for a while, and then quickly passed the $1, 500 level, followed by breaking the $2, 000 barrier not long after. These escalating prices were mostly driven by a few collectors who believed there was more upside market potential in the future than downside risk at the time. This triggered additional collector activity and buying (a crowd loves a crowd), investment speculation, and some greed that added to the increased demand mix about five years ago. The feeding frenzy was then officially underway on all snake guns. Unlike AR-15s, there is no fear of potential anti-gun legislation driving the increase in demand on the politically correct six-shot revolvers—yet.
Today's crazed and hungry buyers are now devouring all the snake meat they can sink their teeth into, in record quantities, but don't forget that even the hungriest collectors stop eating when they're full.
So Who's Buying?
A lot of today's male baby boomers are in their peak earning years or are starting to retire. What are they doing with their extra disposable income, considering their 401k, retirement funds and other investments are flush? Buying stuff they had, or wished they'd had, back when they were growing up in their testosterone-filled years during the turbulent rock 'n' roll '60s and early '70s. This includes Ford Mustangs, Camaros, Barracudas, Colt Cobras/Pythons/Diamondbacks, and probably some period music and sports memorabilia as well.
But why are they buying this stuff now when it's become so expensive? Because they can afford it, and because these collectibles have actually taken on another very important dimension for them. They've become relatively inexpensive time machines transporting the owners back to the vivid memories of their misspent youth, including the nostalgic warmth of drive-ins with $1.50 cheeseburger/fries and milkshakes, great hunting and shooting with families and friends, and the adrenaline rush of high school/college sporting events.
While the Boa was manufactured by Colt under contract for Lew Horton Distributors as a special edition in 1985, it was never listed in a Colt price sheet or catalog. Only 1, 200 were manufactured with consecutive serial numbers by barrel length—600 in 4" and 600 in 6". While hard to imagine, a set of Boas in today's marketplace will fetch a premium price tag of more than $30, 000!
These snake-gun owners have a completely different buying profile than the AR-15 speculators between 2008 and 2012, who were buying a $750-$850 AR for $1, 300 and putting it on their credit cards. This "herd of buffalo" was already spooked and running when the Obama administration took over in 2008, but the real stampede started after the Sandy Hook tragedy in 2012. The herd kept running non-stop for more than five years, and was driven by fear, greed and speculation, creating an unprecedented amount of demand for tactical firearms. Now the herd is worn out and resting, with many of them having lost more than 40 percent on their tactical "investments."
This isn't the makeup of today's snake-bitten buyers, who are paying cash for their expensive purchases, but seem to be more concerned about being able to afford the price today rather than thinking about what the value could be tomorrow. In any collectible marketplace where there have been sizable increases in value within a relatively short period of time—value sustainability is directly dependant on continued or increasing demand.
Share this article
Related Posts