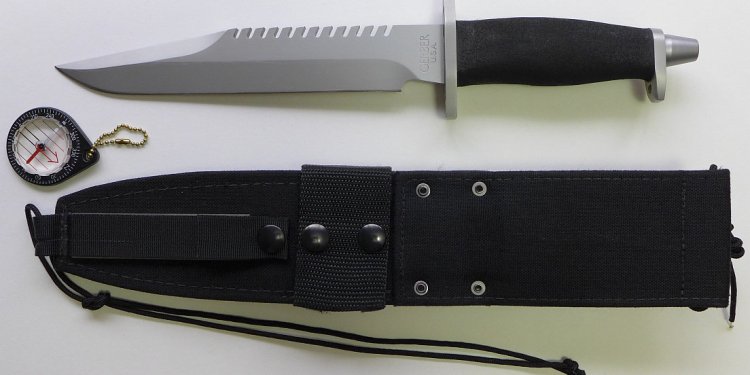 Gerber serial numbers
SERIAL NUMBERS - Serial numbers make dating the Mark II knives a simple process. It is fortunate for collectors that Gerber decided to stamp Mark II blades with a serial number as this added an extra step in knife production and thus extra cost.
To my knowledge, no knives were intentionally produced without serial numbers. However knives can be found that have no serial number and some are totally unmarked, missing both a serial number and the Gerber logo.
Mark II prototypes and salesman's samples were all stamped with a 000000 (six zeros) serial number (See the XKCT knife under Prototypes). The number of these knives is unknown. Serial numbering of production knives started with a six digit serial number, 001001 in early 1967 and continued to serial 112000 at the end of 1981. Most of these knives have blades which are made of L6 tool steel.
I've only noted one knife in this range stamped with an "S", S/N 096939S, which indicates that the blade is made of stainless steel. This is a roughly Aug. 1980 knife and is somewhat puzzling as supposedly Gerber switched to Stainless steel around December 1979 which would be around serial 085000.
The very early serial numbers were inverted, i.e. stamped where the digits are read with the blade pointing down. I have records of three blades 001001, 001030 and 001049 stamped in this manner. Sometime after S/N 001049 and before S/N 001116 the serial number stamping was rotated 180 degrees (digits read with blade pointing up) and remained this way until the end of production. There is speculation that the early inverted serial numbers appear only on the first day of the Mark II's production. I have no idea why the change was made.
In 1982 an alphanumeric numbering system was used. The new serial numbering system started with serial A1001S and continued to at least N4121S, the highest serial number that I have encountered.
Special order requests for knives with L6 tool steel blades were honored for a short period after the start of the new serial numbering scheme. These knives were denoted by stamping with a trailing "T" for tool steel rather than the "S" for stainless. The "T" suffix...
Share this article
Related Posts