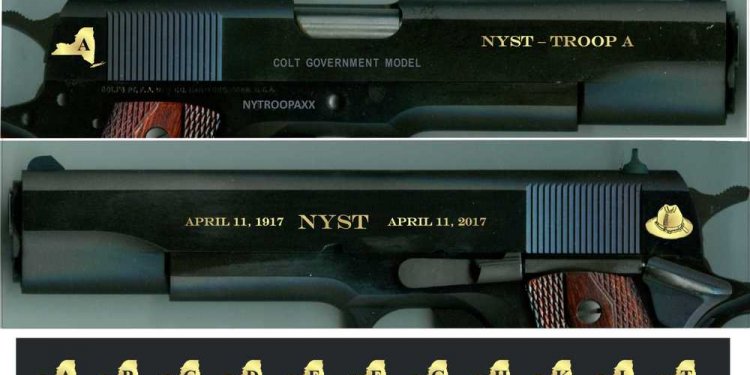 Colt 1911 Commemorative
*** Please be advised that the TROOP A and B COLT COMMEMORATIVE PISTOLS HAVE ARRIVED! TROOP A IS SOLD OUT. TROOPS C, D, e, g have arrived and are shipping out, and Troop k is coming soon ***
SHIELD Custom Commemorative Firearms has partnered with Colt Custom Shop to offer an extremely limited number of factory engraved Government model 1911 .45acp pistols. These pistols commemorate the 100 year anniversary of the New York State Troopers, and will have special serial numbers. To make these more unique, the Colts will have a Troop designation on them, with ONLY 25 pistols for each Troop. 5% of each sale will go the NYST Signal 30 Fund.
On the left side of each highly polished blued slide, will be factory laser engraved in real gold, and the rear of the slide will have a NYST Stetson in real gold.
The right side of the highly polished blued slide will designate the Troop. For example, the Troop 'A' pistols will have: NYST-TROOP A on the slide, and the rear of the slide will have an outline of New York State with the letter A inside. All factory laser engraved in gold.
Each Troop will have a special serial number designation as well, for Example, Troop A will have: NYTROOPA01 through NYTROOPA25.
Each pistol will have Rosewood grips with the NYST shield and 100 YEARS factory laser engraved into both sides. A photo of the grips from the factory are below, or can be found on the photos page.
The pistols will be sold first come first serve. The Troop 'A' set is scheduled to arrive late January 2016, with each Troop coming every other month, in alphabetical order. The Custom Colt 1911 is $1, 200.00 (plus $25.00 for processing/shipping and NYS tax is added for NYS residents only). To order with credit card, scroll down and click on the Troop you wish to have. There is no limit on how many you can order, however, once they are sold out there will not be more made. You may also call 716-860-7764 to order by phone, or to make a deposit. To pay by check or money order, print out the link on the order page. All pistols will be sent to a verified FFL of your choice. See Terms and Conditions for more information.
Share this article
Related Posts