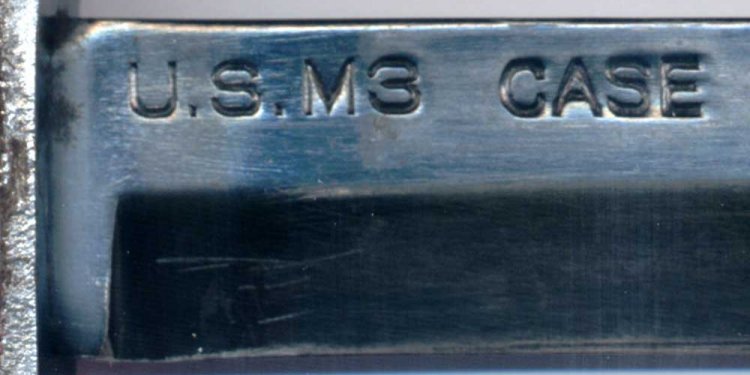 Case knife markings
W. R. Case & Sons of Bradford, Pennsylvania began making Case knives about 1905. Case filled an order for 81, 000 knives for the United States Navy just before World War I and provided a custom survival knife for the astronauts on Gemini and Apollo space missions. This company has also filled the pockets of American boys and men for over a century. Case knives are collectibles; a collector's club was formed in 1981. You can learn to date Case knives by marks once you know where to look.
Open the largest blade on the knife. This is the master blade; it is usually where marks are made.
Look on the tang. The tang is at the end of the blade where the pin anchors it to the casing. You may need to clean this area to see marks but if the knife is a Case, that's where you'll find the mark.
Read the mark for style and content. The marks from 1905 to 1914 had no logo. Knives were stamped W. R. CASE & SONS, W. R. CASE & SONS CUTLERY CO. and BRADFORD, PA. Other marks from this time frame were CASE XX, CASE'S BRADFORD PA. and CASE BRADFORD PA. with no logo. The next mark was CASE XX TESTED stamped inside a circle or oval used from 1914 to 1920.
Review the marks from the 1920s. Knives from 1916 through the 1920s sometimes have CASE'S STAINLESS with the STAINLESS in a smiling curve shape. It was about 1920 that Case started using CASE in a rainbow curve and the script logo with the C underlining the word. Sometimes the price, 25c or 50c, was under the line. The company continued through 1940, but used other marks at the same time, including the short-tailed C with an arrow point at the top. This same C appears with an extended line under the ASE of Case and X or TESTED XX below the line. The use of the arrow-pointed C from 1932 to 1940 included a long underline and nothing below, or a curl at the end and TESTED XX below. There were two marks during this period that were capital letters, CASE TESTED XX and CASE'S TESTED XX.
Look for Case knives from the 1940s and 1950s. They are the most common. The stylish logos were discontinued and the pocket knives from the 1940s had straight CASE XX marks (1940 to 1964) and CASE XX METAL STAMPINGS LTD (1948 to 1952). CASE XX STAINLESS appeared in 1950 to 1964, and was the last mark without U.S.A. until 2000.
Recognize the new Case pocket knives. Case knives from 1965 to 1999 have U.S.A. somewhere in the mark. Since 2000, the long-tailed C has returned with alternating "x" and dots above and below the CASE name, without the U.S.A.
Share this article
Related Posts