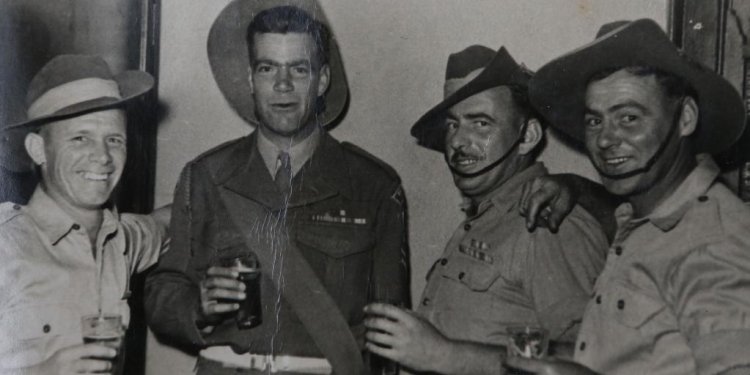 War memorabilia
World War I coincided with numerous advances in technology, resulting in the introduction of new hardware and combat accessories on the battlefield. For example, wristwatches, which had been popular as jewelry pieces for women, replaced the bulky pocket watches that had been favored by men. Even items as simple as belts, which were traditionally made of leather that cracked and frayed under harsh conditions, were upgraded to woven webbed cotton, a more durable material in cold, damp trenches.
As with militaria from most wars, medals hanging from multi-colored ribbons, badges designed to be affixed to caps, and insignia sewn onto the collars, cuffs, and shoulders of jackets, remain popular with collectors, whether they are interested in British, U.S., Russian, French, or German pieces. While jackets are relatively difficult to come by, countless helmets have survived, be they the plain, bowl-shaped headgear worn by members of the American Expeditionary Forces or the elaborate parade versions of the German Pickelhaube, whose tops were crowned by aggressive spikes and sometimes menacing eagles.
Although World War One was the first major conflict in which the airplane played a role, it was also fought on horseback. Thus, many items were designed for members of the cavalry, from swords with sturdy nickel-plated hilts to ammunition-filled bandoliers that could be worn across a trooper's chest or wrapped around the neck of a rider's trusty steed.
Technology impacted the weapons troops carried, too. Rifles were outfitted with accurate sniper scopes, so the enemy could be picked off from a safe distance. Still, the hardware that attached blades and bayonets to the ends of these rifles was also present—some were even designed to be clamped to revolvers for combat at close range.
On the homefront, citizens were exhorted to support the doughboys "over there" with wartime propaganda posters that encouraged thrift, contributions to the war effort, and enlistment. The most famous of these was a 1917 poster titled "I Want You for the U.S. Army" by James Montgomery Flagg, which featured a stern-faced, top-hatted Uncle Sam, pointing an accusatory finger at the viewer. In fact, Flagg made 46 different images to support the war effort, including one of a sleeping Lady Liberty that shouted "Wake Up, America!" across its brow. In fact, Flagg's Uncle Sam poster was so popular, it was also widely used in World War II.
Other famous American artists of the day included Howard Chandler Christy, whose "I Want You for the Navy" from 1917 featured a flirty blonde in a man's Navy uniform. A year later, Christy put a fetching brunette in a floppy, white sailor's cap proclaiming, "Gee!! I Wish I Were a Man. I'd Join the Navy, Naval Reserve or Coast Guard." Joseph Christian Leyendecker's images were more sober and classically heroic—a sailor shaking hands with a somber Lady Liberty; a group of bare-chested, barefoot men loading ordnance into an artillery gun; a Boy Scout holding an enormous sword bearing the words "Be prepared."
Great War Dust Jackets
Alan Hewer's comprehensive site is devoted to World War I books and dust jackets from 1914 to 1939. Most of the boo… [read review or visit site]
myArmoury.com
This resource for historic arms and armour collectors provides exhaustive information on modern reproductions (cust… [read review or visit site]
The Civil War
Paul McWhorter's amazing reference site tells the story of the Civil War through high resolution scans of Harpers… [read review or visit site]
Mikes Tanks
Mike Seeber's extensive collection of over 500 diecast tanks and military vehicles, dating back to WWII. Browse b… [read review or visit site]
Share this article
Related Posts