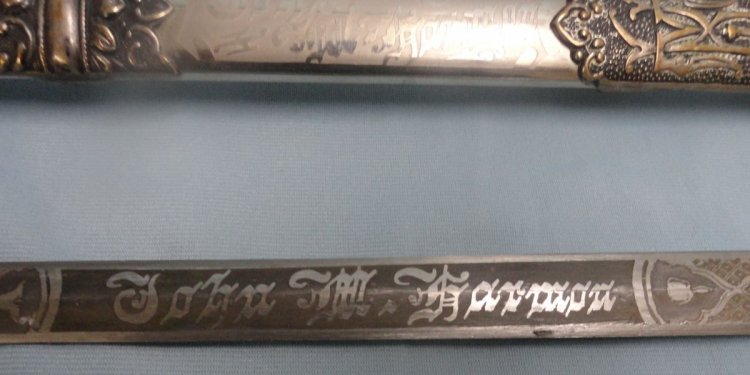 Sword Value
SAMURAI SWORD 28 - ALUMINUM NCO
The Japanese Samurai NCO sword is a machine made sword that was issued to soldiers who did not have their own family swords or for those who did not want to take their sword into combat. These swords were produced and distributed during World War Two. The sample shown here is the Aluminum NCO Samurai Sword.
The scabbard consists of a wooden insert with a brownish metal cover. The Tsuba is a separate piece. The handle and all of the other components are casted as one piece.
The following pictures show some of the components of a sword. A screw is placed to go through the holes in the tang to secure the blade to the handle. In the traditional swords, Soldiers would often make the peg by inserting a chop stick in the hole of the tang, then proceeded to break it. swords often displayed the signature of the maker, their title and school or village on the tang. The example shown here is nicely signed. The NCO sword does not have such markings.
The blade has a serial number stamped on the upper section. It is followed by an arsenal stamp. A blood groove is carved in the upper section of the blade.
The throat of the scabbard is stamped with a serial number. Ideally this serial number would match the one found on the blade. in many cases this is not the case because over the years the scabbards and swords have been mismatched.
Share this article
Related Posts