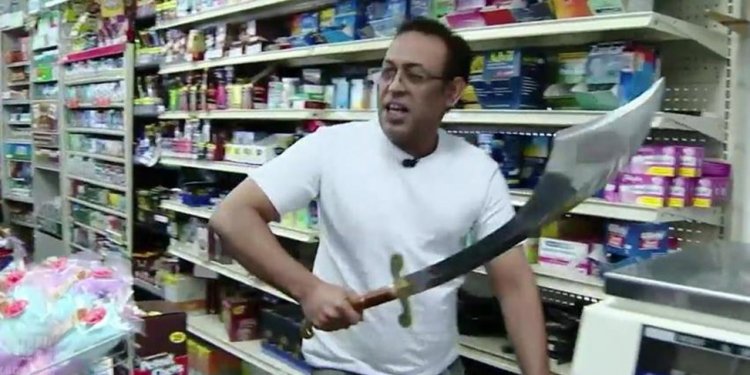 Sword Store Toronto
WATCH ABOVE: Security camera footage shows the moment a sword-wielding robber confronts a sword-wielding clerk at a store in Pittsburgh
TORONTO – For a few tense, surreal moments Friday night, a Pittsburgh corner store was transformed into something out of Game of Thrones.
That's because a would-be robber tried to hold up the store with a sword – only to discover the clerk was armed with a sword of his own.
It happened this past Friday night at the Perry Market in Pittsburgh, Pennsylvania. Two unknown juveniles ran into the store, one of whom was brandishing a sword or very large knife.
The unknown man holding the sword ran behind the counter to demand cash, and that's when the store clerk reached for a blade of his own: a full-length scimitar.
And just like that, battle was joined in the aisles of a Pittsburgh corner store – for a few seconds, anyways.
"[The clerk] had a sword, so he just removed the sword and attacked him, " M.C. Hydare, the brother of the store clerk, in Pittsburgh. "Then when he hit the sword that the dude had in his hand – my brother hit the sword – he ran away."
Both would-be robbers booked a hasty retreat in the face of the scimitar-wielding clerk. One of the unidentified robbers tried to grab a handful of shirts, which he promptly dropped upon running into his partner in crime on the way out the door.
"I just want to give a message to them: Don't try this. You can have money in a better way. Not this, " said Hydare. "Please stay away. Go and find work somewhere."
Share this article
Related Posts