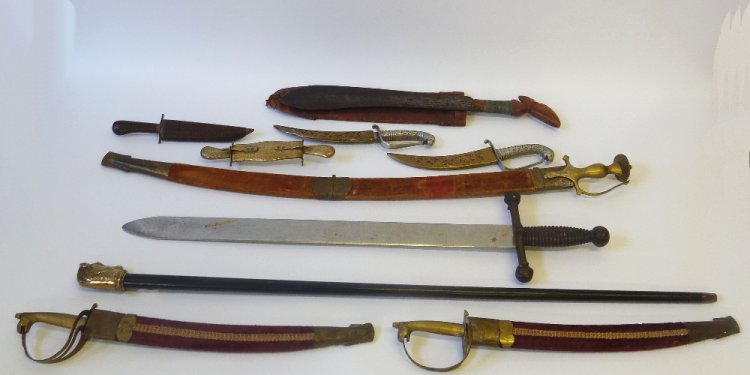 Reproduction Swords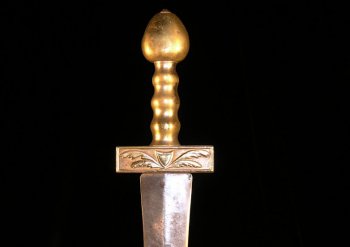 Ok, now don't panic - this article on ancient swords isn't an archeology lecture. ;-)
As always, my focus here as always is to identify the best value for money 'brand name' replicas, as well as where to find them at the best prices on the internet.
But unless we can get some idea of how the first ancient swords evolved, what they actually looked like, and how they were used by the early societies of the Egyptians, Greeks, Celts and Romans - trying to determine the individual merits of a particular replica is going to be an exercise in futility.
So here's a very brief overview...
The predecessors of the very first ancient swords were basically pressure flaked flint and obsidian daggers - and let's be honest, we aren't going to find too many replicas of these for sale..
Later, came the first copper 'swords' of the Middle East and the Mediterranean, which were again in effect nothing more than long daggers.
It wasn't until copper was alloyed with tin - creating the first bronze blades - that these ancient swords began to develop any real length, mostly as a result of new fighting techniques associated with mounted warfare sometime in the 2nd millennium BC...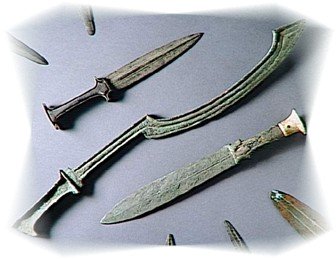 Unfortunately, there aren't any ready made production replicas of these particular ancient swords available in our price range.
BUT if you really want a replica of one of these ancient swords, I recommend a visit to , Neil Burridges UK based website.
Neil holds regular ancient swords bronze casting courses, has appeared on several TV documentaries and even sells a few bare blades for around GBP120 (approx USD$212) though you'll need to make up the handles yourself...
So it seems that the first production swords in our price range begin with the Ancient swords of the Egyptians.
The Egyptians actually made very little use of swords until the Iron age, but even then preferred to use them only as a back-up weapon to their bows, spears and axes.
The most notable exception was the Bronze Canaanite Sickle Sword, or Khopesh, which traces its origins to Sumeria around the third millennium BC.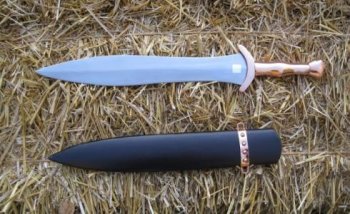 While originally these ancient swords were used against the Egyptians, they were so impressed by them that they adopted them as their own and the Khopesh eventually became the very symbol of Egyptian authority, with two such swords even found in the tomb of the legendary Pharaoh/Mummy Tutankhamen (c 1350 BC).
Unfortunately for us collectors, there are very few replicas of these ancient swords on the market - and almost none of the functional ones are in our price range - except for a couple by Deepeeka of India.
The Hoplite sword was the sidearm of the heavily armed Greek foot soldier of the classical period - similar to the slightly shorter, more durable swords of their even more militant neighbors, the .
The ancient swords of the Greek Hoplites were made of roughly forged steel, with a waist-ed, leaf shaped double edged blade around 24" long. The tang of these swords was a flat cross section of the hilt, bound on both sides by bone or wood and then covered with a thin sheet of metal.
Like the Egyptians, the Greek Hoplite sword was more of a back up weapon, with the leaf shaped blade used to slash and cut at their foes once the primary Hoplite spear had been broken, dropped or thrown.
"Spartan Lakonian"

Windlass Steelcrafts
Price Range: $130 to $145
OVERVIEW: Quite a historically accurate replica, and extremely tough, well made and high quality - it is a MUST for anyone who wants a real Spartan sword.




Share this article
Related Posts