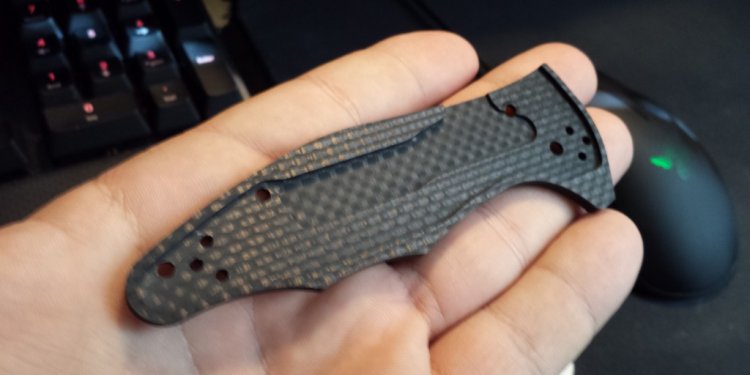 Spyderco Yojimbo 2 s90V
The only part that looks odd to me is the Spyderco font on the presentation side. The lettering is fatter than what's on any of the 4 that I own, and one of them is from the first batch that were released so I have a pretty good range of dates to compare to. The G10 just looks worn so that isn't necessarily a give away, but the font looks funny to me...specifically the "Spyderco" part...the rest looks pretty normal. Probably the only way to know for sure is to send it to Golden and have them check it out.
EDIT:
Now that I look again, the pic looking down on the lock/pivot looks fake as a 3 dollar bill. There's WAY too much gap between the blade and liners. On any of mine you can shine a light down onto the pivot like that and the gaps are so thin (because the washers are so thin) that you can't clearly see the washers like that.
Also the bottom tang area behind the edge looks odd to me, none of mine are cut that way. Here's a pic for comparison...kinda hard to explain but yours is too "straight" going from the heel of the edge to the back of the tang. All of mine have a weird kind of curve to them like this:
Not only that but it looks like you can see where the tang cuts inward on yours, which you can't see on mine. Also overall it looks to me like the blade is too narrow from spine to edge, and the plunge line looks wrong too.
Also either the thumb hole is the wrong size, in the wrong place, or the grind/plunge line are way too far back, all of mine are ground exactly at the back edge of the thumb hole, but the plunge line on yours is further back from the edge of the hole.
Share this article
Related Posts