Spyderco Tenacious Black Review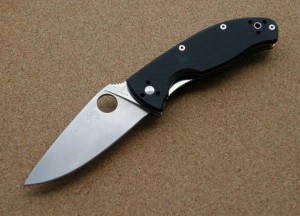 If you are looking for one of the best-selling knives in the past two years, then you really should give this Spyderco Tenacious Review a read. Amazon and the other major retailers keep announcing the sold out status of this knife every once in a while. That just goes on to show the buying power of the Tenacious. Is it the best spyderco? Well, let's see.
When the Tenacious was first announced, the whole knife community was quite divided over this latest offering from Spyderco. This is because of the collaboration between a Chinese brand the ever popular Spyderco. However, some years later, it can be seen that Spyderco's bet hedged quite well. It went on to become a best-selling knife, with all the units being sold out in a short span of time.
Being tenacious means one holds fast. It means being tough and tireless until achieving your goal. These are all the knife-worthy definitions for a worthy knife. This mid-sized Tenacious Plain Edge Knife by Spyderco has a black G-10 laminate handle, milled with prolonged fatigue-free cutting in mind.
Tucked inside are skeletonized steel liners increasing the handle's rigidity and strength without adding non-functioning weight or bulky thickness. The 8Cr13Mov stainless blade is leaf-shaped and ground flat from spine to cutting edge for cutting performance.
The blade's shape coupled with an oversized Spyderco round hole and textured spine jimping allows you to open the blade and position your thumb on the spine in slip-proof confidence ready for work.
Share this article
Related Posts