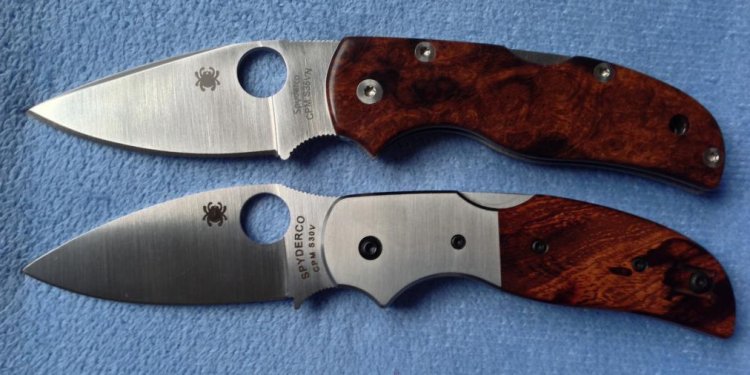 Spyderco Sage 4 Review
Today I am looking at another beautiful knife, the . The Sage series is designed to pay homage to various pioneers in the knifemaking industry and to recognize some of the talented custom knifemakers that have helped re-define pocket knives.
The Sage 1 pays homage to knifemaker who invented the liner lock and features carbon fiber scales while the Sage 2 focuses on knifemaker Chris Reeve's Reeve Integral Lock (or frame lock). For those unfamiliar with Chris Reeve Knives (CRK), his "semi-production" knives are considered to be the holy grail among many knife enthusiasts. They are beautiful pieces and are quite pricey. What appeals to me about the Sage 2 is that you get a lot of what makes the CRK so desirable at a fraction of the cost.
General Dimensions and Blade Details
The Sage 2 has an overall length of 7 1/8″, a 3″ blade, and weighs of 3.5 ounces. These are great numbers in my opinion. The Sage 2 packs a lot into a small and lightweight package. This is an ideal size for every day carry, and the Sage 1 has proven itself to be one of my all time favorite EDC knives. The Sage 2 is just as carryable and makes for a great upscale EDC. The Sage 2 is made in Taichung Taiwan.
The blade is 1/8″ thick which is nice and beefy, it makes for a stout knife which is still light and agile. Spyderco went with their classic leaf shaped blade, with the full flat grind that many people love. The full flat grind is beautiful and makes this knife a great slicer.
Spyderco selected CPM S30V for the blade steel. Back when I first penned this review in 2011, S30V was a high end steel. Today (late 2016), S30V has lost some of its luster next to steels like S35VN, CTS-XHP, and even more exotic steels like M390, but this is still serviceable steel. It's a little more brittle than I would like, and can be difficult to sharpen at times, but it's still reasonably easy to sharpen and holds a good edge. It's a good steel, but admittedly not a great steel. I'd like to see Spyderco update the Sage series to S35VN at some point.
Handle, Ergonomics and Pocket Clip
The handle is where the Sage 2 really shines. It is made of 2 thick slabs of titanium and is held together by 3 torx bolts. I really like the simplicity of the handle. The titanium keeps this knife lightweight and is nicely finished. The flow through construction and easy disassembly are two other features that I love. They make this an easy knife to clean and maintain.
The ergonomics are also very nice. The handle length is only 4 3/16″ however the jimping on the thumb ramp and choil allow you to choke up real close to the blade. Like most Spyderco knives I have held the Sage 2 feels good in hand and will make an excellent user for someone looking at a high end working knife or EDC item. The handle edges are also well finished with no sharp edges or "hot spots."
The pocket clip is the Spyderco wire clip. I think that this is a great pocket clip design because it is simple, strong and easy to conceal. Some people do not like the wire clip. I think those people are nuts, but there is plenty of room for multiple opinions.
The retention of the pocket clip is perfect and the deep carry nature of the clip makes the knife almost disappear in pocket. Spyderco designed this knife tip up carry only however the clip is ambidextrous. For me this isn't a problem although I understand that sometimes people prefer tip down. If that is your desire Spyderco makes plenty of knives with that feature. I tend to prefer blackened clips as it makes them even more discrete, but I can see how that might spoil the aesthetics of the Sage 2.
Deployment and Lock
Deployment on the Sage 2 is a breeze with the standard Spyder-hole and phosphor bronze bushings. The blade moves with very little effort from your thumb and the sound the knife makes when it locks is very fun and satisfying. With the Caly 3 (and other lockback knives) I noticed it takes some effort to flick the blade out but the Sage is practically effortless. That said, retention is still good, it's not like the blade is falling out of the handle – it's only once you give it that initial push that you get the incredibly smooth deployment.
Now, the lock is really the first thing I wanted to talk about (since the entire knife is designed to showcase the lock) but I try to keep a method to the madness here and like to do my reviews "in order" so my regular readers know where to find exactly what they are looking for. The Chris Reeve's designed framelock is a beast and is among the strongest locks you can buy. The lock's strength lies in its simplicity. The entire titanium handle locks the blade in place.
I am left handed and this is not a left handed knife. That said, this knife is still easy to disengage with my left hand although I would love to see a dedicated lefty version some day.
Share this article
Related Posts