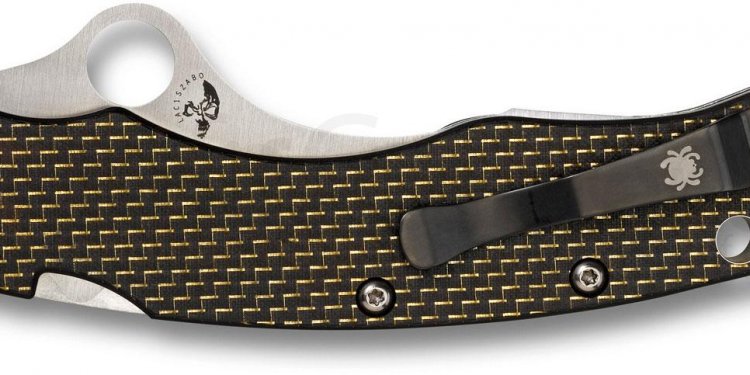 Spyderco liner lock Knives
A Sage is someone wise in judgment and experience. It's reasonable assuming they achieved that title through trial, error and extending their best effort at every opportunity. If that definition can be applied to something tangible it would be an item created from experience and striving for quality and performance at the highest level. If said item were a pocketknife we could call it a Sage.
The C123CF Sage represents Spyderco's 30-year pledge to knife crafting and learning to make better knives at every available opportunity. The plan is to offer an ongoing series of Sage Folders with many of the different and ingenious locking devices and mechanisms the knife industry has to offer.
This model is in recognition of knifemaker Michael Walker's contribution to the knife industry with his creation of the LinerLock and ball bearing detent method of locking open a folding knife. While the knife is made in Taiwan, the flat-ground blade is produced with USA made CPM S30V. It is paired with a twill-woven carbon fiber/G-10 laminate handle and LinerLock. Categorized as a mid-sized folder, the blade is flat-ground and PlainEdged. Designed for comfort and in-the-hand-ergonomics, the carbon fiber/G-10 laminate handle is vibrant with multi-colored fibers bonded together when manufacturing the carbon fiber. The weaving runs deep, making ridges and textures for the palm to adhere to while gripping and cutting. A silhouette wire pocket clip adjusts for left- or right-hand carry.
National Alzheimer's Association
Spyderco will donate approximately 5% of sales of the Sage to the National Alzheimer's Association Denver, Colorado Chapter. The Alzheimer's Association is the leading voluntary health organization in Alzheimer care, support and research. Their mission is to eliminate Alzheimer's disease through the advancement of research; to provide and enhance care and support for all affected; and to reduce the risk of dementia through the promotion of brain health. Contributions to the Alzheimer's Association provide care and support to families in Colorado coping with Alzheimer's disease as well as fund national programs and research to ultimately find a cure. Visit to learn more about how your support makes a difference.
Overall Length
7.125" (181 mm)
Blade Length
3" (76 mm)
Steel
CPM S30V
Share this article
Related Posts