Spyderco Credit Card Knives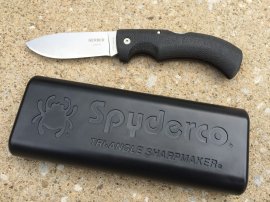 Taking care of your knife is extremely important, especially when you're relying on it out in the field. Being able to sharpen or hone your knife after use is an important skill to learn. For some people, the thought of sharpening a knife leaves them defeated. Finding the right angle to sharpen your knife at can be a struggle for the inexperienced.
I own a few different knife sharpening systems. I've found that the one easiest to set up and use for the average person is the Spyderco Sharpmaker. This system has been around since the 1990s and hasn't changed much. Hey, don't fix it if it isn't broke, right? One of the key benefits of the Spyderco Sharpmaker is that the sharpening stones are preset to a 40 degree angle, which is common on most knives.
The Spyderco Sharpmaker breaks down into a self-contained package, making it ideal for taking out into the field or to camp. The size of the system when packed up is just a little bigger than my Gerber Gator folding knife.
This system also offers flexibility for honing and sharpening your knives. If you really want to go minimalist, you could just take one of the gray stones and one of the white stones. Honing and sharpening your field knife can be accomplished with only these two stones. Sharpening a serrated blade can also be easily accomplished by using the edge of the sharpening stones.
Preparation of the Spyderco Sharpmaker takes only a few steps:
Remove the cover
Insert the hand guards into the base
Start sharpening using a downward stroke, holding the knife at 90 degrees—20 passes on each side of the blade
Tip: If unsure about getting the correct angle when sharpening, use a felt-tip marker and blacken the bevel of your knife. After a few passes on the stone, check the bevel to see if the black marker has been removed.
Pros:
Easy to set up, easy to use, and compact enough to pack for the field. The stones can be used wet or dry. No need to oil or wet the stones prior to sharpening.
Cons:
It's designed with a preset 40 degree angle, so if your knife has a different bevel angle you may have to adjust the angle you hold the knife while sharpening.
Share this article
Related Posts