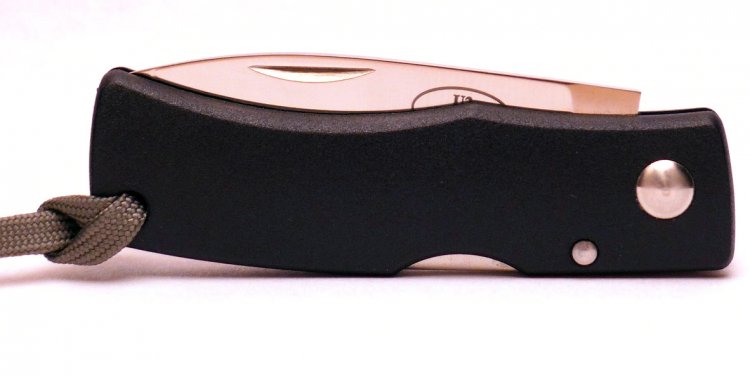 Gerber credit Card Knife
Really hard to put bills into this thing with your cards in it.
The opinions towards this product seem synonymous across the board in regards all money clip owners. However, once an improvement is made I will purchase another.
The wallet is still great and wish it wasn't out of stock as id like to purchase one.
I also faced the same problem, with the card holder. And while finding a solution to it, i tried hockey tape to it, though it took some time to get it fixed right and make it lean, but it solved the problem a big time. I had put the hockey tape under the clip, and also covered the inside of the clip, and it works fine, and also attached a compass to it, so, now it looks pretty cool.
This thing is solidly built, but cards scratch very easily. Also like others said, if it's too full the knife won't deploy.
It's lightweight, small, and the blade is rugged. Just wish the underside of the clip didn't scratch every piece of plastic it encounters.
So I have been using a Spyderco for awhile and recently lost it. Ordered this clip based looks and reviews. As for looks, great. Sharp, not too thick, the knife releases, but here is the issue ONLY if there are very few cards or not much cash. The clasp presses in to release and if the clip is "packed" its a no-go. Seven balls and four cards, its "ok". I added two slim business cards and the knife would not release. So over all if you are just looking to carry a few $20's and two cards your like it, beyond that, I'd look elsewhere.The knife is useless..
Have you guys thought of updating this design? The scratching clip and not releasing when there's too much in the clip...? These seem to be very important features that should function.
Let me know.
Thanks
I love bear grylls I watch all his shows and now am a survivalist but a belt clip with a knife insed sounds like a good deal but im not sure please help me.
Combine this with belt tool into a bifold wallet. Don't over engineer it like you tend to do, Gerber. Bring some of the elements that make the Shard such a great tool into the belt tool. Use friction locks similar to your Ghost Strike series. I already carry the GDC hook knife in my coin pocket in my jeans so no need to try and add that.
This product is actually pretty cool and I do love it, but it has one major design flaw. Where the clip meets the back, it heavily scratches anything it comes it contact with. So all cash and cards or license will become very scratched and damaged after a few time inserting and removing a few times. If they redesigned it to provide some sort of simple material where the friction is so nothing is scratched, it would be work the near $40. Right now I wished I would have paid $10 with this flaw.
Hey All,
This has been my money clip/pocket knife for the past year. Other than being a little hard on the butt cheek, it works fairly well. I have found many uses for the knife and it saves me another item to carry. With too much stuff shoved in the clip the knife wont pull out, until you move the stuff an inch down. So it works great overall.
It would be helpful if your video showed how the credit cards fit and how the money clip part works. Sounds like an awesome product but I really would like to see a demonstration of all its functions before buying
I recently moved to eastern Europe and was looking for a way to carry my money. I wanted some sort of clip that would be comfortable in a front pocket(keeping in mind pickpockets). Having already bought several Gerber knives, I decided to try out the Gerber pocket clip. I am almost NEVER a day without it. It's very functional and great EDC tool to have.
I typically have my Gerber Venture in my other pocket so I don't really use the knife much. It is a little odd(in ergonomics and blade shape) but still a great addition and definitely a bonus.
It's pretty rugged and can take a good beating(as long as you don't bend the clip out). And shows few signs of wear.
The only two issues I found is that the knife can't be removed from the clip if it is full of money. Because it stops the retention button from being pressed in. I don't typically have a problem if it's only a few Lei though. The other is that the paint on the button and underside of the knife wears a little because of the rubbing when the knife is removed.
Overall, great item, totally recommend it. Way to go Gerber!
The screw heads on the clip side scrape the hell out of your cards. So now I have a bunch of scraped up credit cards and IDs.
if the clip breaks, does warranty covers it?..i could see that the clip is mostly made up of steel with less aluminum content..
I absolutely love the GDC money clip. It's by far one of my favorite tools Gerber has ever made. I purchased one for myself and my brother as soon as they came out and we absolutely love them. All the people who complain about it not opening/closing need to understand it's just a money clip. Money clips were designed to only carry the bare essentials. If you want to carry every card you own - then buy a wallet! The only issue I have with this product is I don't carry a lot of cash on me most days. Just my License and my debit card. When its only cards in there, they both get scratched. I had to order a new debit card because mine was so beat up. It's still an awesome product, but if you're going to carry it, make sure you've got cash to prevent your cards/ID's form getting torn up.
Share this article
Related Posts