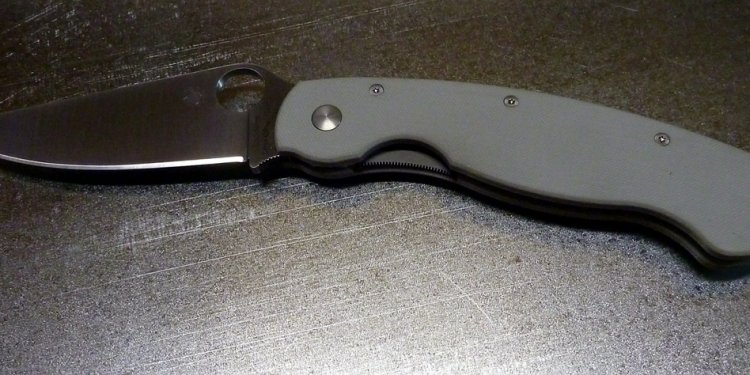 Spyderco Bushcraft Factory Second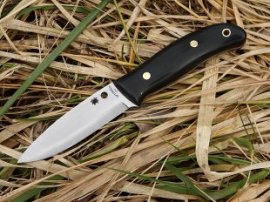 A leader in the field of folders and tactical knives over the past couple of decades, Spyderco certainly hasn't rested on its laurels after their many successes. Over the years, they've continued to expand and develop their line of knives to address all fields of interest for knife enthusiasts. That dedication to variety is demonstrated with the introduction of their new Bushcrafter.
I've enjoyed my experience with Spyderco knives over the years, but I'll be honest. This knife took me by surprise in a couple of very different ways. The first time I heard of their new Bushcrafter knife, my immediate response was, "Huh? Spyderco?" It just seemed a little off the beaten path considering the more modern design styling of most of their line. The second way it took me by surprise was when I first held it in my hand. I talked with our Associate Editor Tim Stetzer about this experience over the phone. There are a lot of great knives out on the market. Many of them you appreciate for their asthetics and there are quite a few that you begin to appreciate more and more as you use them. Some you can just look at and know they are very nicely designed for their intended purpose. But, the Spyderco Bushcrafter was the first knife I ever held in my hand and the first word out of my mouth was, "Wow!"
What was it that caused me to issue that excited utterance? I haven't a clue, and it may sound a bit hokey to some folks reading this article. But, that's exactly what happened. I was so surprised by it, that's I mentioned it to Tim when we were talking one evening. Of course my response is completely subjective and a direct result of my own tastes and preferences, so I won't begin to promise that you'll have the same experience. The handle is carved and contoured out of black G-10 perfectly for my grip. It felt like someone took a mold of my hand and made the handle just for me. But, I think part of what really grabbed me was the heft of the knife. Between the thick handle slabs and the handle steel itself, there is some real weight to the knife. It exudes quality and inspires confidence on the part of the user. You feel like you've got a real, heavy-duty tool at your disposal to take on whatever comes your way.
Yeah, I know. That's a whole lot of Zen meets the way of the knife kind of patter, but that was my initial experience. But, it all comes down to how it performs in the field, doesn't it? So, only time would tell if it was going to truly live up to my expectations. So, what are those expectations? Everyone out there has a different definition of a bushcraft knife and there are hundreds of designs on the market that all kinds of knife lovers would say falls into the range of a "bushcraft" blade. But, somewhere along the way a general consensus of sorts has coalesced into a more standard thought of what a bushcraft knife is and what it looks like. A large population believes that a bushcraft knife should be made of a high carbon steel that's easy to sharpen in the field, hence the popular use of O-1 for the blade. A lot of traditionalists think it should have a Scandi type grind which makes it good for wood carving and makes it easier to sharpen. That's even better for me since as I have mentioned before, I'm somewhat sharpening challenged. Scandi grinds also leave more steel than a few different grinds making the knife stronger and able to take a bit more abuse in the field.
Share this article
Related Posts