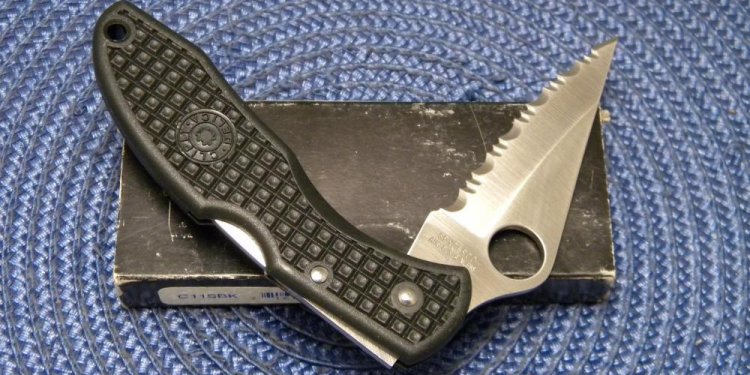 Spyderco AUS-8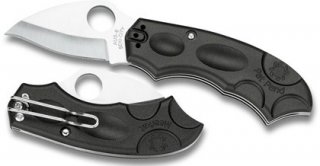 Illustration courtesy of Spyderco, Inc.
Spyderco ( is a US company based in Golden, Colorado. It is owned by Sal Glesser and the Glesser family. Spyderco knives are designed and tested in house, where Spyderco maintains a million dollar testing facility. The knives are manufactured primarily in Seki-City, Japan, but some models are made in China, Taiwan, USA and Italy.
Spyderco's most recognizable feature is a hole in the blade to facilitate one handed opening of folding knives. It replaces the nail nicks and thumb studs commonly used by other manufacturers. This feature has been copied by numerous other knife makers.
Spyderco also introduced the use of clothing clips on folding knives, another feature that has been widely adopted across the cutlery industry. In addition, Spyderco pioneered serrations on folding knife blades, the famous SpiderEdge. As a result of their commitment to research, testing and development, Spyderco has earned something like 86 patents.
Spyderco knives often look strange, but they are always functional, reliable and very well made. Generally speaking, the more you use them the more you appreciate Spyderco knives.
The Spyderco MeerKat is a small (3-3/8 inch long folded) Clipit pocket knife. Spyderco calls it one of their "Little Big Guy" knives, claiming that it cuts and feels like a larger knife. Like most Spyderco knives, MeerKats are made in Seki-City, Japan.
MeerKats have been discontinued for 2014, but some years they are intermittently available as limited production sprint runs. In recent years, Meerkats have been available with drop point blades and fiberglass reinforced nylon (FRN) handles in blue/gray, Burgundy, or black. What Spyderco describes as a "Reverse S" blade shape with a black FRN handle (#64BK2) has been another MeerKat option and this is the model featured in this article.
The test knife has a modified leaf pattern blade with a gentle backward S shape cutting edge when viewed from the left side. Of course, if you turn the knife over and view it from the other side, the gentle curve describes a forward S (not reversed).
Regardless of how you look at it, the S curve of the blade means that it cannot be sharpened on a flat whet stone. Some sort of round or rounded sharpening rod is the answer. These are available from Spyderco, but are less commonly seen than ordinary flat whet stones or bench stones.
There is, naturally, a 12mm Spyderco hole in the spine of the blade for easy one hand opening. These holes can look unsightly and give Spyderco folding blades a hunchback appearance, but having used Spyderco folders for some time I have come to appreciate the design. The hole is farther from the hinge pin than typical thumb studs, which gives you better leverage for opening the blade one handed and there are no parts to loosen or fall off. Unlike thumb studs, nothing protrudes from the side of the blade to catch on clothing and, inadvertently, partially open the blade.
However, the real secret of the MeerKat is how the locked open blade is released to close. That is the trick. The MeerKat uses what Spyderco describes as a Phantom Lock. There is no external lock release. Instead, there is a pressure release hidden inside the right handle scale. Here is how to unlock the open knife blade for closing:
1. With the knife in your right hand, put your thumb over the embossed Spyderco bug in the divot in the knife handle scale at the butt end.

2. Two of your fingers will naturally position themselves in the appropriate divots on the opposite side of the handle.

3. Make sure your other fingers are not in the blade path, then push your thumb forward. This will pivot the scale forward a couple of millimeters, which will unlock the blade, allowing it to close.
When the knife is broken-in, a flick of the wrist will snap the blade open or closed with the mechanism unlocked. Steel liners inside the FRN boost the lock's strength and double as a plate for securing screws attaching the tension-wire clothing clip.
The heat-treated wire clothing clip can be attached to either side of the MeerKat at the front (blade pivot ) end of the handle. It provides an unobtrusive, deep in the pocket (or waistband), tip-down carry. It is held in its mounting channel by a single T8 Torx screw.
Specifications
Model: MeerKat C64BK2
Overall length (open) : 5.313 inches (135mm)
Length closed: 3.375 inches (86mm)
Blade length: 2 inches (51mm)
Blade thickness: .093 inch (2.5mm)
Cutting edge: 1.75 inches (44mm)
Blade shape: Modified leaf with fine, Reverse S cutting edge
Blade grind: Hollow ground
Blade steel: AUS-6
Handle material: FRN
Weight: 2.4 ounces (68 g)
Country of origin: Japan
MSRP: $30.65 (when last offered)
Regardless of shape, all Meerkat blades are made from Aichi AUS-6 stainless steel. AUS-6 is a medium quality Japanese steel often used in moderately priced knives. It is similar to American AISI 440A steel and offers a reasonable balance between toughness and edge holding. It has a relatively high tensile strength and is easily sharpened, but as a cutlery steel it is generally unexceptional. AUS-6 is typically hardened to Rockwell 55-58 HRC.
Interestingly, all Spyderco knives using the popular Aichi steels AUS-6, AUS-8 and AUS-10 (except the Delica4 and Endura training knives with edgeless, blunt tip blades) have been discontinued. AUS-6 competes with AISI 440A, while AUS-8 is comparable to AISI 440B and AUS-10 is roughly similar to AISI 440C.
The MeerKat's cutting bevel is factory sharpened at an angle of about 20-degrees. Like all Spyderco knives, it cuts well out of the box, shaving hair from my arm or curls from paper.
The MeerKat's handle is cunningly shaped for comfort and control when cutting, even though is it sufficiently thin for comfortable pocket carry (with the clip removed). It is surprisingly ergonomic with the blade open. A spine cusp (directly above the hole in the blade) provides a thumb rest and a finger cut-out directly behind the sharpened edge of the blade allows for a secure grip. There are subtle curves in the handle and divots in the scales that make the handle comfortable.
Share this article
Related Posts