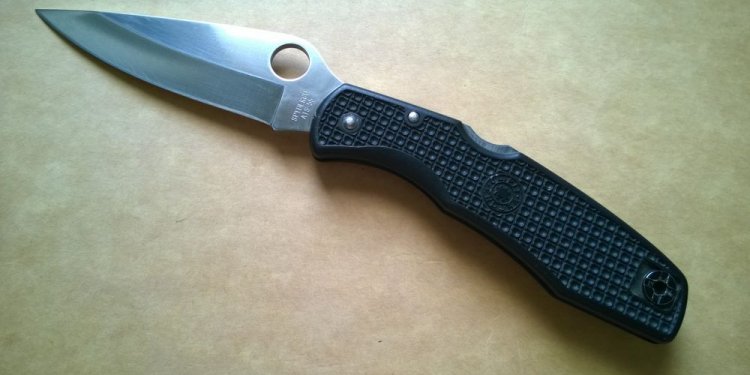 Spyderco ats-55
Spyderco Civilian Review
Very good
With it's intimidating hawkbill blade, the Spyderco Civilian is an outstanding self-defense knife
Key Specs
Blade length: 4.125 inches

Overall length: 9.2 inches

Closed length: 5.2 inches

Weight: 4.75 ounces

Blade material: VG-10

Locking mechanism: Lock Back

County of origin: Japan

Price range: About 0

The Civilian's overall length opened is 9.188″, with a blade length of 4.125″ and a closed length of 5.188″ (a little longer than the Paramilitary 2). The serrated cutting edge of the blade is 3.75″ long, and is .125″ thick. The weight of this knife is almost 5 ounces, putting it on the heavy side but still not so heavy that it will weigh you down uncomfortably.
At first glance the Spyderco Civilian can be mistaken for a but it's a slightly different species and lacks the distinctive finger ring found on the Karambits. But make no mistake, this baby is menacing.
The Blade
The blade on the Spyderco Civilian is both striking and terrifying. It's a hawkbill shape, or "S" blade as Spyderco calls it, designed for slashing with maximum effect.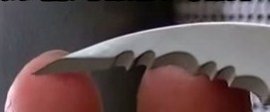 Note, however that the purpose of a blade like this is self-defense, not as a combat weapon designed to kill. Since the shape of the blade does not permit straight penetration it is in fact a pretty ineffective combat weapon. It is purely designed to 'hit and run' in a self-defense situation. That said, I know some who use it as a 'rescue knife' for effectively cutting seat-belts or harness straps in emergencies.
Today, Spyderco manufactures the hollow-ground blade for the Civilian from Japanese-made VG-10 steel, which replaced the inferior ATS-55 steel once favored by Spyderco over a decade ago. VG-10 is a hard steel with excellent edge-retention and all-round performance. The Civilian is made with the full Spyderco serrated edge, but I have seen the knife come with a plain edge in rare cases.
The serration Spyderco uses has two smaller serrations between each larger one which has proven to be very effective. Yes, it's sharp, very sharp – but you knew that.
The knife point is micro-thin, allowing it to pierce near-anything but also makes it prone to snapping if you misuse the knife (such as using it for EDC utility use). I wouldn't necessarily call this a drawback given the knife is meant for one purpose and one purpose only: self-defense against an attacker.
Note that sharpening of the Civilian blade should not need to occur often given you won't be using it for everyday EDC tasks. When the time comes it can be done using standard tools, such as the Spyderco Sharpmaker, but you'll need a slice of extra patience for a blade like this.




Share this article
Related Posts