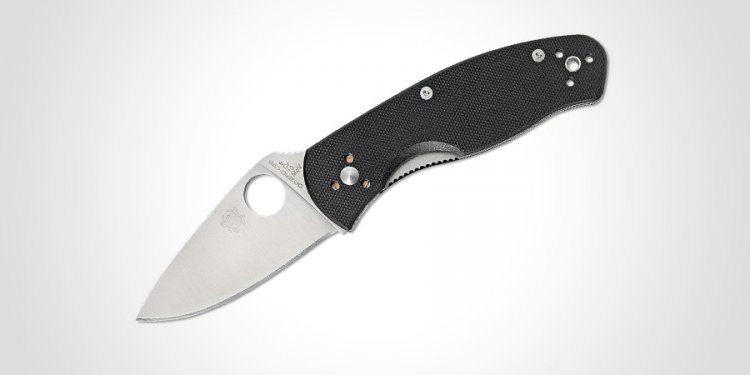 Most Popular Spyderco
Bob Terzuola is one of the most influential figures in knifemaking and the first custom maker with whom Spyderco collaborated on knife design. Based on his most popular custom designs, Spyderco's original C55 Starmate was a landmark accomplishment in knife manufacturing. Now back in production for the first time in years, the new version of the Starmate faithfully retains all the features the original and incorporates a number of enhanced features.
Manufactured in Japan, it features a saber-ground blade made from VG-10 stainless steel. Unlike the nested liners of the first generation, the new Starmate features full skeletonized stainless steel liners for an exceptional balance of light weight and superior strength. They are capped with textured black G-10 scales that offer a slim profile and an outstanding grip.
One of the distinguishing characteristics of a Bob Terzuola design is his improved Walker LinerLock mechanism, which features a concave ramp on the blade's lock face. This lock geometry, pioneered by Terzuola in his custom knives, provides greater strength and security than conventional flat lock ramps and is proudly featured in the Starmate.
To ensure convenient, versatile carry, the Starmate also features a new four-position clip with a broad triangular base for security and extreme strength. The new clip can be easily configured for tip-up or tip-down carry on either side of the body, allowing you to tune your carry to meet your personal needs and preferences.
The Starmate is a reflection of our rich collaborative history with one of knifemaking's most talented and innovative craftsmen.
Overall Length
8.70" (221 mm)
Blade Length
3.75" (95 mm)
Steel
VG-10
Closed Length
4.95" (126 mm)
Edge Length
3.51" (89 mm)
Weight
4.9 oz (139 g)
Blade Thickness
0.157" (4 mm)
Handle
Share this article
Related Posts