Needle replica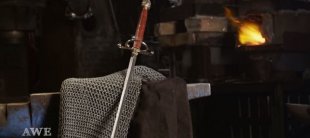 The team behind Man at Arms have been busy over the last couple of weeks, and they've taken the wraps off their latest crowdsourced inspiration: Arya's Needle, the sword she wields in Game of Thrones. Fans wanted to see the creation come to life, and the team made it happen, forging the sword the same way it does all of its creations: using a mixture of modern technology and archaic — but certainly effective — forging technologies, not the least of which involves a lot of fire and beating with a hammer.
AWE me released the video today, showing the team — composed of six people — make Arya's Needle sword from scratch. This project started off with a couple lengths of steel, which were cut, stacked, and welded. Forge welding was used to make them into one, and soon enough the firing and hammering took place.
Some existing 18th century small swords were used to create parts of Needle, including the handle, which was copied with wax. The wax was then carved and sculpted, and after a lot of patience and work, the handle was created. All was eventually assembled into a fully functional sword.
We've seen many similar replicas as produced by Man at Arms. Recently, the team set out to create Link's Hylian shield from Legend of Zelda, for example, and they've previously created the Assassin's Creed Phantom Blade, and a Katana Lightsaber. Hit up the timeline below for more info!
Share this article
Related Posts