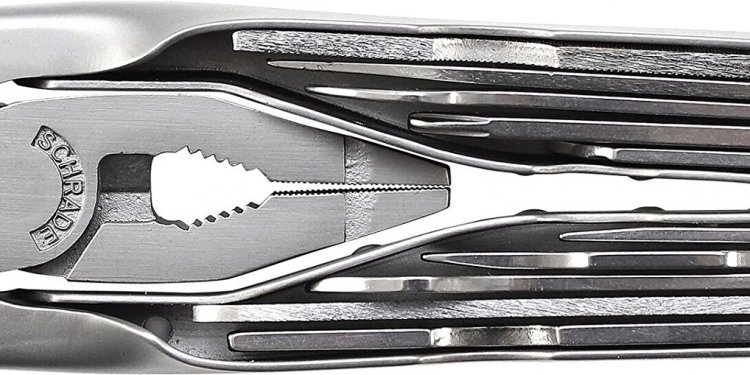 USA made Multi Tool
This summer, Leatherman Tool Group, Inc. will debut an industry first: a multi-tool that can be worn on the wrist. The Leatherman Tread is crafted of high strength, corrosion resistant 17-4 stainless steel links that include two to three functional tools each, making a total of 25 usable features like box wrenches and screwdrivers available at a moment's notice.
"The idea originated on a trip to Disneyland with my family, " said President Ben Rivera. "I was stopped at the gate by security for carrying a knife, when what they had actually seen was my Skeletool. I was unwilling to give it up, so they made me take it all the way back to my hotel room. I knew there had to be another way to carry my tools with me that would be accepted by security." When he returned from his trip, Rivera, who began his tenure at Leatherman Tool Group 24 years ago as an engineer, began by wearing a bike chain bracelet to see how it would feel. As his thoughts took shape, he brought his idea to the engineers at Leatherman who helped fast track his plans.
The Tread bracelet began taking shape. Each complex link was metal injection molded for strength and intensity. The bracelet was crafted to be fully customizable with slotted fasteners, so the user could rearrange links, add new ones, or adjust for wrist size to ¼". Even the clasp is functional with a bottle opener and #2 square drive. Other link tools include a cutting hook, hex drives, screwdrivers, box wrenches, and a carbide glass breaker.
"I began wearing prototypes myself to test comfort and usability, and to ask for feedback, " said Rivera. "Folks immediately associated the bracelet design with a watch and asked, where's the watch? We decided to make a timepiece an optional part of the Tread."
A version of the Tread bracelet that includes a watch will be available in Fall 2015. The Leatherman TreadTM QM1 will feature a unique Leatherman-designed and Swiss-made timepiece with precision quartz movement. A shock resistant sapphire crystal ensures scratch resistance for heavy duty wear, and the curved watch limits reflection and increases outdoor visibility.
Share this article
Related Posts