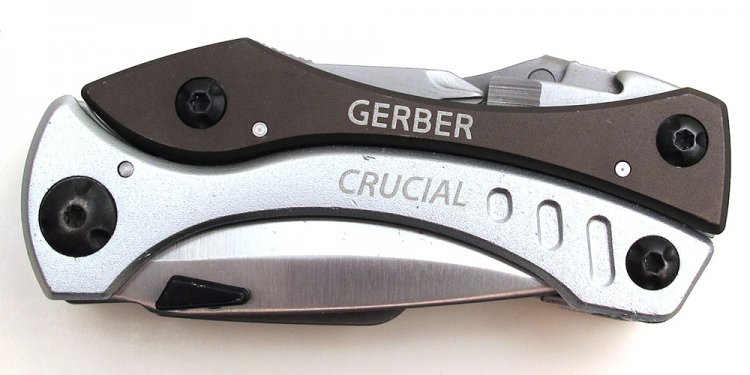 Gerber Pocket Multi Tools
I purchased a CLUTCH which is an older version of the vise, it served me well for several years and then recently the pliers failed, one side gave way and would not work again. i contacted GERBER by email with this issue in hopes that they would come up with a replacement part to fix my problem. within 48 hours as they promised with a reply email I was contacted by phone and by email. after a few quick emails and telephone conversations with the GERBER REP I was shipped a free replacement tool, the new and improved VISE which I carry every day on my keychain and have used several times already. It is a very handy pocket tool that seems to be there right when yo need it. I am very happy with the VISE and also very HAPPY with how I was looked after. GERBER stands behind there products very well, THANK YOU !
P.S.
I will continue to by GERBER products feeling secure that GERBER has my back
I can access the pliers but that's all. The rest of the tools are so tight that they can't be accessed. What a waste of money.
I loved this tool until my pliers started popping and pinching me and my son. I have sent it in for warranty work. It saved me from financial death one night after the machine at ExxonMobil would not give up my debit card. With the pliers I was able to remove my debit card by gently pulling it out of the machine.
I found my Gerber knife last week while working in the lawn. Who knows how long its been there. Cleaned it with some steel wool - looks and works just like new.
LOL that key ring needs to be on the OTHER SIDE of the tool
This tool appears to be very similar to the Bear Grylls Compact Multitool (which has a second knife blade instead of a nail file) and the Mini Suspension, sold at Home Depot for considerably less money.
I got it to pull up puncture vine around the neighborhood, and for that it works well. The thin jaws of the pliers penetrate soil easily, and the teeth on the jaws give a firm grip. However, since the handles are so short and they touch each other close to the joint when closed, it is very easy to pinch either your forefinger or your thumb when you use it. I might try grinding away some of the handle scales with a Dremel tool to see if that helps. Also, it is easy to pinch your hands when closing the thing up, because it snaps closed with a fair amount of force.
The knife is fine, but the other tools are barely better than nothing, which is probably all you can expect at this size.
It's ok, but the keyring is on the wrong side for the direction that the blades open, so it's useless on a keyring, which is what I bought it for.
Sad.
Bottle opener sucks. the Flathead broke affter about 6 months.
this little multi-tool is the ting that u would want to carry around everyday because it is small, compact and light and it gives you the fine edge and serrated edge options on the multi-tool.i would reccomend the vise for anyone experienced with knives or beginners
Given the fact that this is a compact pocket tool and the affordable price, this multi tool is excellent in my opinion. I use it everyday and is much easier to carry around than the typical sized multi tool
I had an issue with the pliers, but Gerber replaced no questions asked. They followed through on their Lifetime Warranty.
Works well if you can actually get the other tools besides the pliers out. What do you expect from Made in China? The Pliers aren't too precise either. However, I do like the fact that it is spring-loaded. I feel as if this picks up sand in the weirdest places and then gets gunked up into irrelevancy. I do however love the Drop-Point Blade Shape on the Knife.
In concluding, if you really need a mini Multi-Tool, unless you are on a strict price-point or just love Gerber, go with the Leatherman Squirt which is Made in the USA for Double the price.
Used it for a few months and all was good. One day I took it out of my pocket and the flat screw driver wasn't there anymore.
Agree with other reviews. Edges are sharp and can be uncomfortable in the pocket and when trying to cut with the scissors. Broke the flathead screwdriver with minimal torque. Very disappointed and expected more from a Gerber.
Good in concept but the edges are very sharp and hard on the hands. Design of the screw driver is terrible and flimsy, mine broke when trying to loosen a screw. Not what I expected from Gerber. If you looking for a nice pocket tool this size go for the Leatherman Squirt much better design and more robust.
Share this article
Related Posts