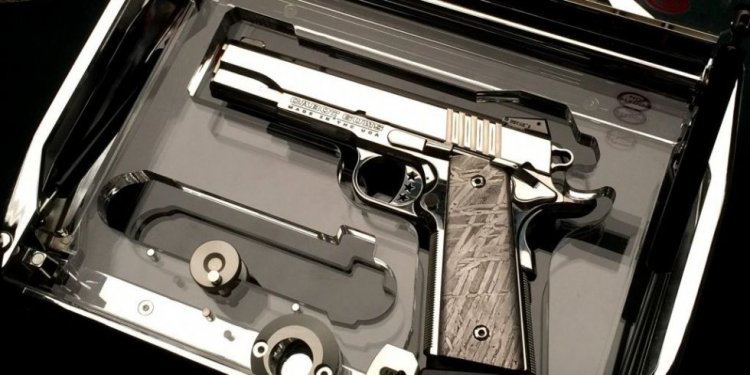 Guns made

U.S. factories have produced more than 100 million firearms over the past 25 years – almost half of the roughly 270 million firearms estimated to be in the hands of U.S. civilians, according to Small Arms Survey, an independent research project located at the Graduate Institute of International and Development Studies in Geneva, Switzerland.
While the survey found 2, 288 makers of civilian firearms operating in the U.S. from 1986-2010, more than 40% of those guns came from three key companies:
Sturm, Ruger & Co. leads the U.S. firearms industry with about 15.3 million firearms produced in the period.
Remington (owned by Freedom Group) produced about 14.2 million and comes in second.
Smith & Wesson is third, with nearly 10.5 million.
Here are snapshots of the three biggest players in the U.S. gun industry:
Freedom Group
Remington's 870, which after half a century is the best-selling shotgun of any type in history, with over ten million made. Photo Credit: Remington.
About the Company:
Freedom Group states that it is the largest manufacturer of commercial firearms and ammunition. Freedom's brands include Remington, Bushmaster Firearms, DPMS/Panther Arms, Marlin, H&R, The Parker Gun, Mountain Khakis, Advanced Armament Corp., Dakota Arms, Para USA and Barnes Bullets. Remington is one of the nation's oldest continuously operating manufacturers and was founded in Ilion, New York in 1816.
Employees:
The company states that it is the largest employer in domestic firearms and ammunition manufacturing with over 2, 600 employees. Worldwide employment is more than 3, 000.
Sales:
$775 million in 2011 vs $744 million in 2010
Net loss:
Freedom Group reported a net loss of $6.7 million in 2011 vs a $7.6 million loss in 2010.
Much of the loss stemmed from restructuring costs. When those are excluded, the company reported earnings before interest, taxes, depreciation and amortization (EBITDA) of $120 million in 2011 vs 117.6 million in 2010.
Share this article
Related Posts