Most Valuable Firearms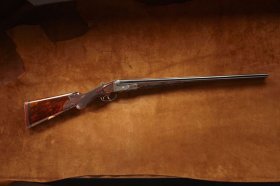 Editor's note: The firearms detailed below are not necessarily part of the NRA Museums collections, and the NRA Museums does not release the monetary value of the firearms contained in its collection.
My reply is always the same: "It is hard to quote a price for something that is priceless, or else it wouldn't be called 'priceless.'"
Sadly, most visitors don't appreciate the smart-aleck answer from the old cranky curator. "Okay, okay, " I'll tell them, "the most valuable guns in the collection are the Parker Invincibles. If you had to put a price tag on them, the Invincibles are worth $5 million."
"How do you know they are worth that much precisely?" they often reply.
"Because that is how much I was offered for them; not once but twice."
One of the "Parker's Invincibles" shotguns in the NRA Museums' collection.
It is true; I was offered $5 million for the set of three Parker grade 9 shotguns, twice at two consecutive Las Vegas Antique Arms Shows, almost 15 years ago. Maybe they are worth even more now considering inflation…
Pricing firearms is difficult to do. It is fairly easy to look at a new gun and figure out how much it is worth. For example, The Blue Book of Gun Values is in its 37th edition, listing a half-million values on 22, 000 models from 1, 700 manufacturers. This is a must have reference for any gun collector… but what about those rare guns? The one-of-a-kind guns that the BBoGV doesn't list?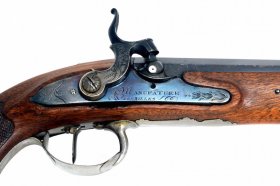 You have to rely on records of private sales to judge what the world's most valuable guns are. Not all guns are sold publicly, and therefore the respective owners may consider the recorded price for the transactions none of our business.
Auctions are a good place to go to establish values, if you trust the auctioneer. Some auction houses have been known to buy an item themselves at their own auction, just to run up publicity on the item so that they can sell it again a few years later.
Negotiating the minefield of high finance in the firearms field can be tricky if you don't know the subject matter yourself.
Pistol produced by Boutet at Versailles. (Photo courtesy/Dana K. Williams)
Back to the question at hand: what are the world's most valuable firearms? Undoubtedly, the arms made at Versailles by legendary French gunmaker Nicolas Noel Boutet are considered the finest examples of firearms craftsmanship ever made. Shotguns and pistols owned by Napoleon Bonaparte are considered the most valuable guns on earth. They are safely housed in the Hospital de les Invalides in Paris, on display for the world to see just footsteps from Napoleon's tomb.

If our Invincibles are worth million, then Napoleon's Boutet's are worth million.
The next runner-up would be Sam Walker's Walker Colts. Rumored to have been sold within the past 10 years to Bill Koch, this brace of .44's made television history on the "Million Dollar Gun" episode of 1998's Tales of the Gun. As a pair, these guns, personal gifts from their inventor Sam Colt to Texas Ranger Sam Walker, were estimated to be worth $1 million, later selling for $3 million in 1996.
Sam Walker's "Walker Colt." (Photo courtesy/FtKnox.com)
The last sale price, if you believe the rumors, is said to have been in the neighborhood of $4 million. That makes them the most valuable - and most historically significant - firearms in American history, an easy call as without Walker, you have no Colt Patent Firearms Manufacturing Company, which not only remains in business (more or less) for the next 150 years, but eventually becomes one of the first companies on earth to begin the use of manufacturing via mass production of interchangeable parts, thus ushering in the industrial revolution.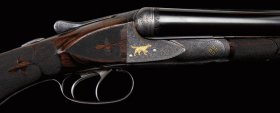 The beloved father of our country comes in next with another brace of pistols valued at .9 million, per their sale at Christies to the Richard King Mellon Foundation in 2002. These pistols, owned and carried by George Washington during the American Revolution, are on display at Fort Ligonier, Pennsylvania for the public to see and enjoy. These are just two of many firearms owned by Washington that are extensively documented, and the provenance is considered "air-tight" on them.
An A.H. Fox shotgun that went to Africa with Theodore Roosevelt in 1909 on safari was recently sold for just under $1 million dollars. Again, this gun came straight from the Roosevelt family; there are photos of Teddy with the gun and it is listed by serial number on the packing manifests for the voyage, making the question of provenance not really much of a question at all.
Theodore Roosevelt's A.H. Fox shotgun. (Photo courtesy/Garden and Gun)
There are guns that claim to be the "most valuable, most expensive" etc., etc., as witnessed by the advertising that rival gun auction companies have produced over the years.
Take each of the claims of guns belonging to Jesse James, Wyatt Earp and various and sundry officials of the Nazi Third Reich with a grain of salt. "Buy the gun, not the story, " was the advice my wise Uncle Val Forgett, founder of Navy Arms Company, gave me, and it is still wise to heed his warning to this day.
Provenance can be easily faked, and oral tradition can be manipulated over the years. I've seen a few Jesse James and Wyatt Earp guns sell for over six figures and I wouldn't have paid $5 for the papers to back up the claims they had to their original owners.
The moral of the story is this: know what you are buying, study it and buy the gun, not the story that goes with it. Unless, of course, you find an original Luger chambered in .45 ACP in your dresser drawer. In that case, I'll give you a million dollars for it, sight unseen.
Share this article
Related Posts