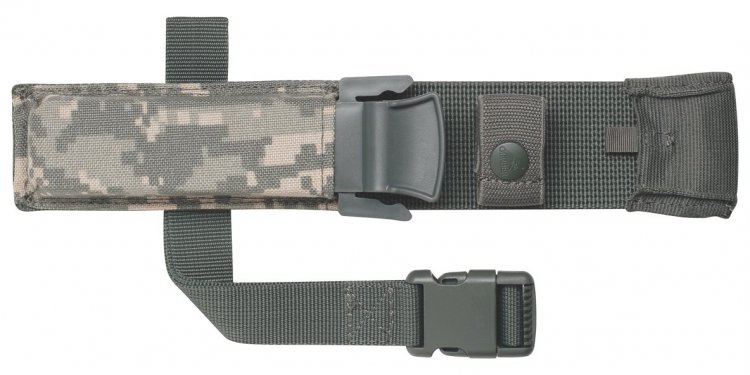 Gerber Tanto blade
I want to preface this by saying that I actually bought this from Dick's Sporting Goods, where I found it on sale for $19.79, so I paid quite a lot less than what I would've buying it from this site.
That being said, the knife itself is phenomenal. It fits well in the hand with plenty of leeway between people with big hands and people with smaller hands. The handle is sturdy, and can take quite a beating, but being solid aluminium, it can be a bit rough to use for a long time without gloves. A rubberized grip would make it much more comfortable to hold with a bare hand, but it's still one of the more ergonomic knives I've used. The weight is moderate, and it balances very nicely right about where your index finger would fit, giving you great control over the knife while keeping it firmly in your grip.
The blade is well-made, with a point that's sturdy enough to stab into hardwood over and over without bending, dulling, or chipping. The tanto tip merges well with the rest of the blade, and gives a superb cutting edge. My one issue with the blade itself are the serrations, which are a bit shallower than I would prefer. A quick sharpening and they'll perform perfectly fine, but I prefer my serrations with a deeper, more sawtooth-like design, as it makes it easier to saw through branches.
The sheath is something I'm seeing quite a few people complain about, but I wouldn't call it anything close to a deal-breaker. Nylon is far from the best sheath material, and different colours or patterns would be nice, but it does its job well and keeps the knife very secure.
Overall, I give my own knife five stars, because for $20, it's possibly the best fixed-blade knife I own. However, as I mentioned, it does cost $50 on this site. Personally, I wouldn't mind paying an extra thirty bucks for this, as its construction is superb and the knife itself outperforms my $110 Ka-Bar tanto by leaps and bounds. Even for the listed $50, I'd say this is well worth it.
Great knife that holds a edge very well and is very sturdy. It is very comfortable in the hand. My only gripe and personal con is the sheath seems it will see the worst of wear in months of use.
-John Deer
Looks nice but the nylon case is a stopper for me not to buy for the price, I would have to send out and get skydex sheath maid for it for half the cost of knife.
Looks like a great knife, was interested until the Army acu camo colored nylon sheath was the only one offered. Nylon sheaths NEVER hold up. Offer a different sheath and ill buy.
this is a AMAZING knife super strong and light
well worth the money.
Good strong knife works well. Only thing to complain about is the sheath fell apart already, have only had it one month.
Works pretty good, I like it
Phenomenal knife. Light, strong, and incredibly well thought out. As a close combat weapons expert, I couldn't have designed a better knife myself.
Excellent knife. served me well in Iraq. Lightweight, solid, wonderful all around. The sheath is almost everything you can ask for, molle compatible, lightweight, slim, except for the color. Yes it matches my uniform but i really wished it would have come in a different color or at least offer the sheath in a variety of color options
I have it, its sharp but its heavy a bit and the sheath's quality is not perfect
Please get a black sheath, the Camo pattern does not go with anything other than similarly patterned camo. If the knife is going to be marketed with a camouflage sheath, there should be options for other camos (marpat, USMC, etc)
Thanks!!!
I got one today hopefully it's great
Love the knife. Really don't care for the stealth. I don't need multi cam sheath on jeans or real tree camo. Black kydex would've been just fine.
I love this knife it's the best
great knife
hated the sheath
The serrations feel to long and the sheath falls apart very fast I would suggest something from kabar
this knife is the perfect weight and length for its price! GREAT JOB GERBER!!
I bought a couple of these to put in the vehicle bags without breaking the bank in the process. It is a well built no nonsense knife.I would highly recommend if you are wanting a well built knife if you are on a smaller budget.Far outperforms its price.
Thanks Gerber!
I love every thing about this knife except for the sheath. I wish it came in OD green, black or kydex instead of digital camo. If you did that Gerber I would luve this Knife even more.
Do you carry a universal sheath for this knife? I'd like to use as my new diving knife.
Would LOVE to see this knife with a black sheath! Please get a black sheath available and I would by for sure!
what kind of steel is this knife made out of?
The knife is very good, nothing bad to say. The sheath is the only one that has all the main features I seek in a sheath: ambidextrous, Molle compatible, reversible fastener (at the perfect position to hold the knife without play), leg strap... Please evaluate to offer it in more colors, I would buy more than one.
Great slim, light fighter - more of an urban tool military, so suggest it come with black, Kydex-type sheath, preferably with clip.
I'm a woman who has a knife collection (I wear four a day!) and I have to say, this is one of my absolute favorite knives, ever. I was never a fan of the fixed blade varieties, but I fell in love once I saw it. Not a fan of the digital camo, and requested a black camo sheath instead. Love, love, love.
Purchased this knife 3 weeks ago and am quite impressed with it's sturdiness and quality. Please, PLEASE make a black sheath available for this! I don't use digital camo for civilian use. Would give it all 5 stars if that was to happen.
I got this knife i love it, i cut the belt loop off right above the snap sewed it back together i wear it every day
Wish the sheath is was black, would deff buy.
Please have a non serrated version.
this knife has helped in some sticky situations. the full tang rocks it didn't bend when prying & stays sharp most of the time. A little sharpening & that is all that it takes.
AWESOME
i got this knife cause I was looking for fixed blade .I didn't need a survival or hunting knife and already got at folder, to me its a knife I carry when I ride my bike its ready when i need. it fast it s a city tool for me weather self defense or emergency its what I need. this knife was made to cut it holds your thumb well and easy to manuver nice
I use this knife daily for both protection and utility. granted the sheath is crap, but I strap it on my boot and im ready for the day. working were I do includes some shifty individuals and possible theft of important metals but they see the knife and look the other way.. I own 4 gerbers and all of them do their job great. this is a keeper but as for the sheath I wrapped the elastic end with electrical tape and its perfect. the handle is a bit slippery but also wrapped it in athletic tape and called it good. love this knife... A MUST BUY!!! if u love cutlery and just collect knives, I suggest owning this one... its the best ... thanks gerber!
Share this article
Related Posts