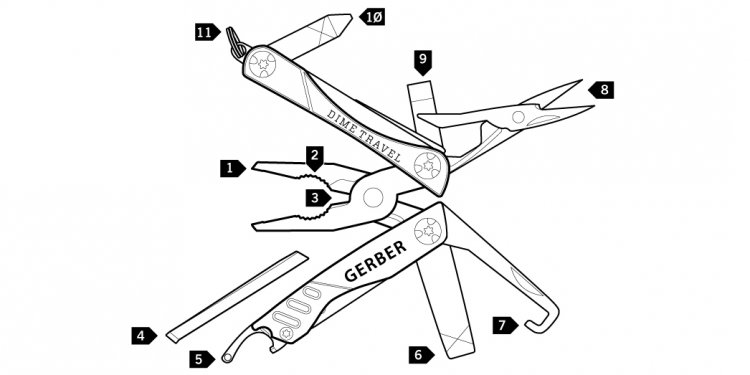 Gerber Pocket Tools
I agree with others, lanyard hole is a feature, not a function. Based on my use, they could add box-cutter to the function list and still have 7 functions. It's not going to replace a real box-cutter any more
It is the the best tool ever!
Every set of keys should have one. I agree with others, lanyard hole is a feature, not a function. Based on my use, they could add box-cutter to the function list and still have 7 functions. It's not going to replace a real box-cutter any more than it would replace a set of screwdrivers, but it opens boxes better than a house key does and is still airline safe. The bottle opener works great, usually opens on the first try. Pry bar opens paint cans, removes staples, and handles other minor tasks. The screw driver opens battery doors in similar. It's great to have a useful tool on my keyring since I can't carry a multi-tool with a knife at work or on flights.
The Gerber Shard has come in handy on more than one occasion. Its one of those tools that you're glad you have when you need it. Despite its compact size, the Shard is robust enough not to bend, twist, or get int the way of anything else on your keychain. The tools I've found myself using the most included: the screw driver, pry bar/ flat head, and the bottle opener. Its proven it worth as an "every day carry item."
I think its a great tool. Be careful, ill lend it to someone to use it and realize only later my car keys are gone.
Great product. Easy to use and works beautifully. Makes opening beers a lot easier.
Love this little tool. Rides on my key chain like a champ. Cool little Gerber.
Stopped carrying this after a long while after I realized that it does nothing that it's supposed to properly. Screwdrivers strip screws if you can even get it to fit to begin with, not big enough to actually use as a pry bar, and its a barely mediocre bottle opener!
But it would be nice to include the features list in the packaging, the way Gerber does with other tools. It's so slickly designed that someone could easily not notice something they need.
Just came to this sight to order a new one because I just lost my last one at lunch. I am the ad-hock tech guy and mr. handy at small company that employs me and you would not believe how much use this thing gets from an average joe like me. for 7 buckaroos you cant go wrong. Whoever though this up, give that man a cookie.
Love this thing. Perfect for your keychain as it definately come in handy when you least expect it.
Great pocket tool especially for traveling through strict airport security. No problem in airports outside the US (they don't allow scissors on board so Leatherman Style PS went bye bye). Would be nice if the lanyard hole doubled as a wrench but it is worth the money.
I wanted one of these, but the only way I could find it was in a set with the Ripstop I knife. I went for it.
A few days later, I just totally disassembled 20 feet of stove pipe for cleaning with nothing but the Shard and a flashlight. I love this one. As others have questioned, I would love to see Gerber do a video with a TSA official proving that the Shard is airline-safe.
You always will find yourself in need of something at some moment in time and not be in reach of a tool box Here you go. I love all my gerber tools and knifes and this is no exception
Cool tool. Can you verify it is TSA compliant so I can fly with it?
I liked this EDC a lot at first, but then it started to systematically destroy the pockets of my coat and pants. There are a LOT of sharp edges/angles on this product. I would not suggest keeping it on a keychain that is regularly put into a pocket.
Bottle opener is a little rickety and crosshead a little small, but everything else is great. The Shard is about 2 dollars cheaper at amazon.com I am pleased overall.
It would be perfect if it had a #2 Philips screw tip instead of the small #1 overall a handy little tool for something you carry on your key chain
The tool is little, but very durable and extremely durable. It's allowed in a carry on, I went to JFK and it was okay. What a great tool!
Compared to former Gerber gear I've owned, this tool has perhaps the most convenience for its size.
Have one on my keyring and have found it to be useful for some small tasks. Proved very useful. Will possibly purchase some for Xmas gifts.
Gerber is definitely not alone when it comes to dubious claims of multi-functionality. Please someone, illustrate how "lanyard hole" is a function and not a feature. Gerber: you have a stand-up reputation for putting out great products, you are better than cheap marketing tricks. You want to keep that superstitious 7 without radical redesign? Make that lanyard hole a 1/4" hex driver
Best piece of steel next to a good knife. I carry it everywhere. I wish it had a wrench option instead of a lanyard hole.
Because of the curve the bottle opener is a bit hard to use, it tends to slip sideways. For the price and other features though, its not a bad buy.
Share this article
Related Posts