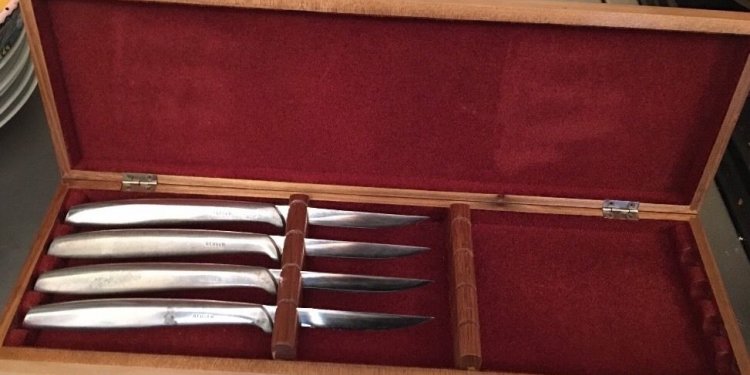 Gerber miming Steak Knives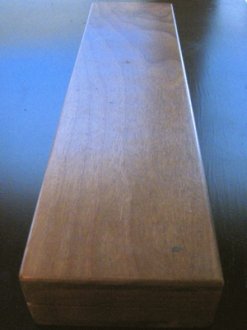 Category: What on Earth!?
It's been a long, long time since I've looked in any of the remaining boxes, trunks and whatnot from the items still in the house. Yes, still in the house. Over the last three years, we've gifted items, sold items, donated items, recycled items, pitched items. And there are still MORE THINGS!
Just for grins, I took some quick photos of a wooden box that I stumbled upon while cleaning out a drawer in preparation for some work on the first floor.
Looks innocent enough, eh?
When I opened it, I found a set of EXTREMELY sharp stainless steel knives with the mark "Gerber-12" on one side of each handle and "MIMING" on the other.
Given that the only "Gerber" I'm familiar with these days is the baby food, I did a little research on the Internet. Here's what I found out:
Joseph Gerber started Portland, Oregon's Gerber Advertising back in 1910. One Christmas, he hired a local knifemaker to craft 25 sets of kitchen cutlery as client gifts. The knives were so popular, Mr. Gerber ultimately left his agency to launch Gerber Legendary Blades in 1939.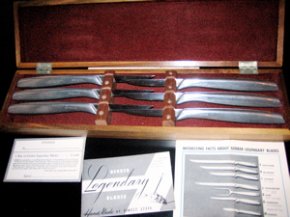 Based upon the brand's logo on the documentation, I'm guessing that this particular set was manufactured between 1947 and 1952. And the set looks like it has never been used.
The current tagline for their knife designers is hilarious..."When one of these guys gets a knife stuck in his brain, it's a good thing." I don't believe this particular set of knives was destined for use by a Navy Seal or fireman, but one never knows.
The Miming Set are steak knives in a walnut presentation box, I know that much. They are pretty sleek looking and ouchy-sharp. We already have a set of steak knives, so these will probably go back to the basement for now.
Share this article
Related Posts