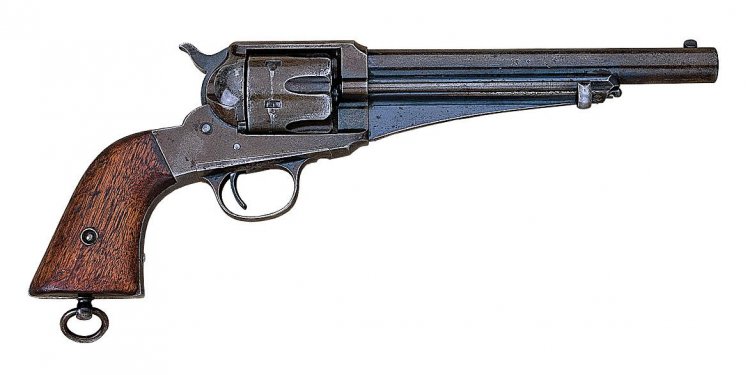 Colt Peacemaker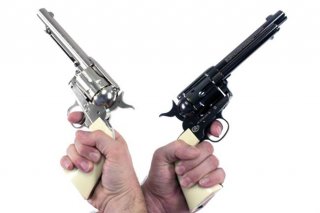 The Basic Anatomy of the Peacemaker
The construction and realism of the Colt Peacemaker Airgun is fantastic. These guns are beautifully made and evoke all the same imagery as the real deal. When you first pick it up, the heft of the gun really hits you. This is no toy six shooter. The weight and balance are exactly the same as the original making these just as natural and fast pointing as a real Single Action Army.
The controls on the Peacemaker are 100% authentic. Cock back the hammer with your thumb and you hear 3 distinct clicks as the cylinder rotates and the trigger resets, just like it should. Open the loading gate and slide back the ejection rod and the shells drop out, just like they should. The trigger breaks crisp with no creep, just like it should. Everything is in its proper place, with the Peacemaker CO2 airgun in hand any Colt aficionado feels right at home.
As fantastic as this pistol is there are a few things to keep in mind when considering this gun. While it's a great gun for plinking and shooting cans in the backyard this is not a target gun. Just like the real Single Action Army the rear sight is nothing more than a notch cast into the top strap of the frame.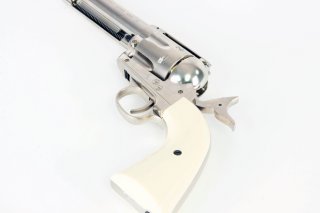 It also is a smooth bore, BB only pistol so don't expect to be shooting dime size groups at 20 yards. There are a few things about the build of the pistol that we feel could be changed, the biggest of which is the grips. The included grips are plastic and designed to look like Ivory. Now for some that is the look they may want, but others are of the firm belief that a Peacemaker needs to have wood grips with a high gloss finish and a deep stain. We hope that at some point Umarex offers them as an option.
A gun that's part of American culture
If you've watched A Fistful of Dollars more than you can count... this is your gun. If you know who Louis L'Amour is... this is your gun. If as a kid you rode around on a broomstick playing cowboys and hollering "Stick em' up" to imaginary bandits... yep, this is your gun.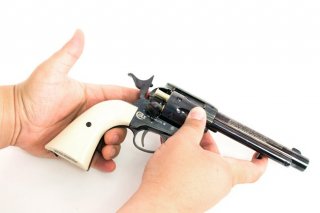 Pictures don't do the craftsmanship of the gun justice. When you pick up either the blued or nickel plated peacemaker, it just radiates with quality. You can feel that a lot of effort has gone into making a quality replica. And the price is actually incredibly reasonable for the results, don't tell Umarex but they probably could have charged more!
Accessories
There are six rear loading brass cartridges included with each Peacemaker. Since the shells are loaded into the gun one at a time,
you won't be able to use a speed loader
. Only Colt Peacemaker CO2 shells seem to fit in the Peacemaker, so make sure you get the right ones. Pick up extra revolver shells so you can refill on the fly, or just to display proudly on a belt!
Speaking of belts, no Umarex Peacemaker should be without a holster attached to your belt! The fine folks at Air Venturi have four different full leather revolver holsters specifically made for the Colt Single Action Army Airgun Revolver. Southpaws aren't overlooked either though you can only get your holster in black (guess you'll have to be the bad guy).
Maintenance
Since your firearm is CO2 powered, the valves need a small amount of lubricant. Most owners will simply put a drop of Pellgun Oil on the end of a CO2 cylinder every few CO2 cartridge changes. There is a product from ASG called Ultrair that is a CO2 cartridge with a small amount of silicone inside of it. They state that you simply use one of these cartridges for every 10 regular CO2 cartridges.
Also know that when a CO2 gun is fired quickly, the expanding gas cools the surrounding metal parts and the inside of the barrel. If you live in a humid area, this can cause moisture to condense on these parts and lead to rust. To avoid this run a dry patch down the bore after a day of firing just in case moisture is present.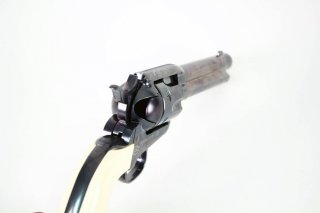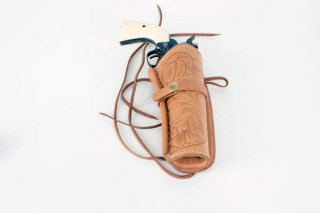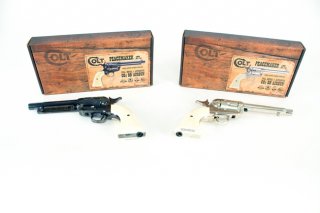 Share this article
Related Posts