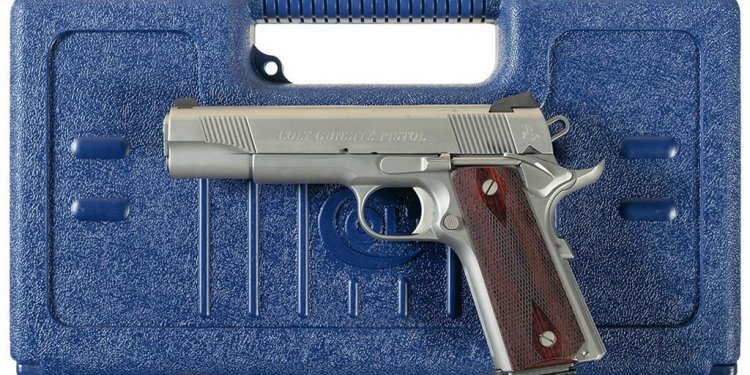 Colt Gunsite 1911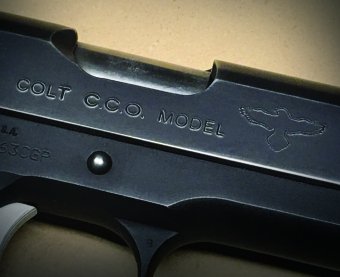 Which is where we get back to our slight self-satisfaction. We were very early adopters of the Officer's Model, and somewhat later made it our first "carry gun" when CCW opened up in our county. We shot it disproportionately well, though we give all the credit to the pistol: The trigger was unusually good for "factory" in the era, and the flared barrel/bushing configuration—we think—accounted for its relatively astonishing accuracy. It was easily adequate for defensive shooting demands, but no slouch at bowling pins or even the occasional bulls-eye foray either, despite the 3.5-inch barrel and considerably shortened sight radius.
This last was the only real drawback in our view. The abbreviated grip solved the main barrier to discreet carry, but we missed the confidence engendered by a longer sight radius.
Cycle forward roughly a decade, and enter the Gunsite CCO. Clearly, some other very sound thinkers on pistol tactics and equipment agreed. Three-finger support, Commander-length slide/sight radius and aluminum frame erase any deficits, while taking nearly 8 ounces of the belt burden of a full-sized gun.This last was the only shortcoming in our view … we missed the confidence engendered by a longer sight radius.
Our range time with the CCO could hardly have been more satisfying. Long-time fans of the 1911 that we are, Campbell's ante-up of his personal gun was a redoubled joy: We had no concerns about "wear-in, " but a good barometer of service life was very much at hand.
In both arenas, the CCO proved a standout. We ran the pistol with several varieties of defensive ammunition, but all remained very manageable despite the reduced mass of the pistol. Hornady Critical Defense, Gorilla Ammunition's "Silverback, " and Federal's "Practice and Defend" combos were all utterly reliable and very accurate. We had no trouble meeting our standards in the Five Skill Drill, except at 10 yards. This last we attribute to a vision/sight mismatch, not to the pistol. Outdoors, accuracy was clearly up to snuff, but we ran our times indoors. There, we simply couldn't see the sights well enough to meet the "only 'A's count" requirement. Obviously, that's on us.
An old gripe about 1911s was also debunked by the CCO sample—fussiness about bullet noses and/or overall cartridge length. We keep some light, needle-nosed semi-wadcutters as well as some short-OAL, blunt heavyweights on hand to test this in .45 ACPs, and we generally catch nearly every pistol at one end or the other. Well, not the Gunsite CCO, period. Just to be perverse, we ran several magazines of no-repeat ammunition through—155 SWC, 185 JHP, 200 SWC, 225 TC, 230 RN, 230 JHP and 255 TC—and all without difficulty. That's weird, we grant, in terms of feel, but instructive: boom, boom, boom, boom, etc. Boring, almost: 400-plus failure-free rounds down the road.
We have two tiny gripes, but we forewarn—these are issues preponderantly of taste. One we've already alluded to: We just don't shoot anything long without putting some high-visibility technology in the front sight position, because it only seems fair to the gun. Any time we run "standards" or "qual-" type courses of fire, high-visibility types are a routine 10-percent advantage, and occasionally more. As much as we love the standard Novaks (and we used them ourselves for decades), we'd consider this or similar from the nice folks in Parkersburg, W.V., in a hurry. If we needed tritium for low light/defensive purposes—a likely employment for a CCO—as well as for superb daylight presentation, these are a standout from Trijicon (here at Brownells).Boring, almost: 400-plus failure-free rounds down the road.
Share this article
Related Posts