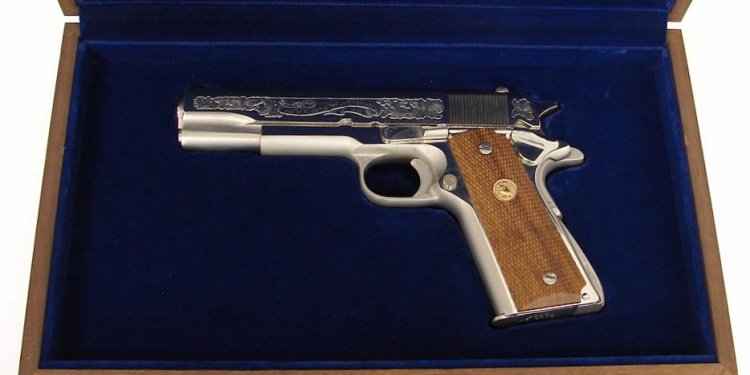 Colt Centennial 1911
By now, we all know that it's been just over a century since John Moses Browning came down from the mountaintop with the Model 1911. And we also know that 2011 was a good year for it, with many companies producing commemorative and limited-production pistols in honor of its 100th anniversary. As the weapon's original manufacturer, it's no surprise that Colt did the same, introducing three versions of the classic .45 as it was issued from the start. Of the three, the most accessible version is the Tier III: a plain, wood-stocked, brushed black gun that, aside from the roll marks, is intended to look like it came off the line just after the turn of the 20th century. With a retail price of about $1, 200, it's also reasonably priced—if you can find one.
Fortunately, I was able to lay my hands on one and subject it to my customary 500-round range test (see the November 2011 issue of Combat Handguns). While I liked the gun and found that it would work well as a defensive pistol, I'm one of those people who can't leave well enough alone. Something absolutely indispensible about the 1911 is that it is the ultimate blank canvas upon which master craftsmen can work their magic. But what do you do with something like the Centennial pistol? Add a beavertail? Machine the slide for adjustable sights? While entirely appropriate on a working gun, the customary slate of modifications would be pure sacrilege on a limited-run retro gun like the Centennial. As I thought about it, I began to consider the custom services offered by the Colt Custom Shop—specifically, those intended to enhance the gun's appearance.
Engraving has long been a feature of specially made Colt pistols. Sam Colt himself used to commission embellished pistols that were given as gifts to prominent (or would-be) customers. Not only would engraving add to its beauty while keeping in line with the gun's heritage, but having it done through the Colt Custom Shop would both ensure the quality of the work and keep the gun completely Colt. Among the services that Colt offers is a factory letter authenticating a given firearm, and if the custom work is done in-house, the completed gun will "letter" as a Colt custom, which is significant if you're buying a gun for investment value.
Share this article
Related Posts