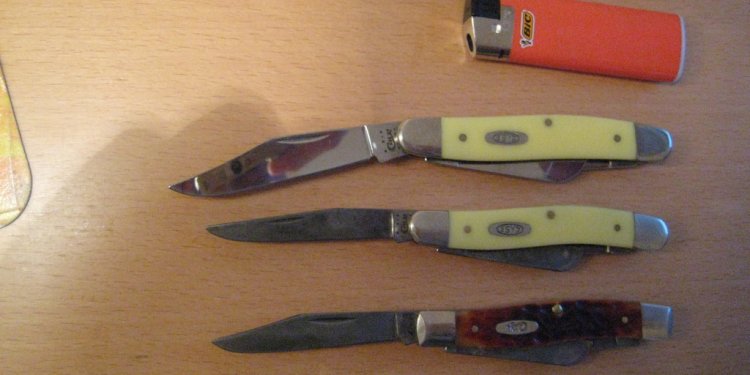 Case Stockman Knives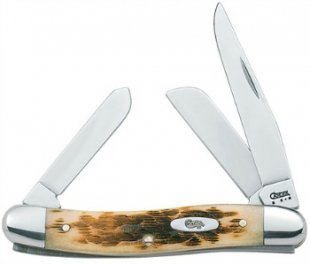 Case Model 6318 SS Medium Stockman. Image courtesy of casexx.com.
The stockman is a three-blade knife. Typically, the main blade will be a clip pattern, with sheepfoot and spey secondary blades. The most common sizes of stockman knives are 3-5/8 to 4 inches closed length, although there are smaller and larger sizes. It is common for smaller sized knives to have a pen blade in lieu of a spey blade. The prototypical stockman body has a subtle S-shaped profile, which leads to the pattern sometimes being called a serpentine stockman.
The history of the pattern is so obscure as to be nonexistent. I am only guessing when I suggest that the stockman is a contemporary of the trapper pattern, developed circa 1900 and becoming well established and popular by the 1920s. I can definitely say that the stockman was much in evidence in rural West Virginia in the 1950s, which is where and when I grew up.
For instance, my brother-in-law was a livestock farmer and there was always a stockman knife in his pocket. However, he had to buy a new one every several years, because he flat wore them out. He used those knives for everything short of major farm machinery overhauls. If anyone wonders, yes the spey blade, honed very sharp, was used for the purpose the name implies.
Stockman knives are very versatile, because of the three distinct blades they carry. For instance, I have used them a lot for cleaning small game. The spey blade is well suited for skinning, while the clip blade is just right for gutting small game.
Someone unfamiliar with these knives may be puzzled by a particular design feature often seen in the classic stockman design. When the blades are closed, the spine of the sheepfoot blade is more exposed than the others. This is purposeful and practical, for that blade can be pinched between the thumb and finger and opened easily, even when one is wearing work gloves. Most people who use stockman knives utilize the sheepfoot blade frequently, partly for this reason. I have done so many times.
I did considerable browsing on the internet to get a current picture of the availability of stockman knives. I consulted the catalogs of knife makers, where available, and supplemented this by searching the websites of major internet vendors to confirm what knives are on the market. Here is a summary of the significant makers of stockman knives and what they offer.
W.R. Case & Sons Cutlery Co.
Case lists over 80 specific models of stockman knives in their 2015 catalogs. These come in four sizes, 2-5/8, 3-5/8, 3-7/8 and 4-1/4 inches closed length. The majority feature stainless steel blades and dyed and jigged bone handle scales. However, there is a reasonable selection of models with carbon steel blades, plus a variety of other natural and synthetic handle materials are available on selected models. Liners are brass, bolsters are nickel silver and pins may be either of those materials.
Share this article
Related Posts