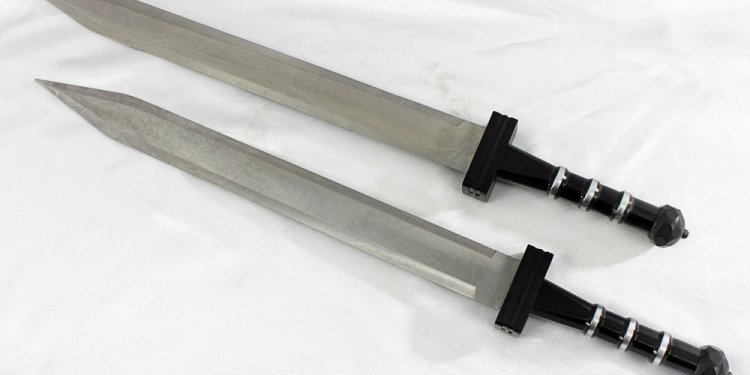 Steel Swords
We are pleased to announce the newest product in our line of licensed collectibles from the HBO® series Game of Thrones®. Needle's Scabbard is made from genuine leather and metal accents. It was modeled directly on the actual screen used prop from the show, with accurately matched materials and dimensions. It is made to fit Needle Sword of Arya Stark, item VS0114 and will come with a certificate of authenticity. The Needle Scabbard will retail for an MSRP of 0 and we will start accepting preorders immediately for Late Spring 2016 deliveries.
CHRISTMAS SHIPPING INFORMATION. Christmas this year is on a Friday. For domestic customers you can order as late as December 23rd (at about 3 PM eastern time) and select Next Day Air shipping for delivery on the 24th. If you order by the same time on the 22nd and choose 2nd day air, it will also work, or the same time on the 21st and choose 3 day select. For ground shipping, nationwide, the Thursday prior to (which is the 17th) will be the last day. For areas within a state or two of Tennessee you can order ground as late as the 21st and it should still make it in time. For International customers regular mail shipping is basically no longer able to reach you in time. UPS Expedited should work until the 18th or possibly 21st, and UPS Express until the 22nd.
Needle is going to start shipping. This is the biggest release we've had since Longclaw for sure, and it will take us probably a week to get through all the backorders. If you've moved and need to change your address please EMAIL us, changing your address on our site only changes it for future orders, not past orders. Otherwise, remember to stick them with the pointy end. (oh, and Lannister shield is coming too).
Oathkeeper Damascus will start shipping tomorrow. If you've had your address changed or something please email us to let us know. If you requested a number greater than 250 it will not ship in this batch, if you wish to change your number request also let us know. Not all of them will get out tomorrow, it will take a couple days to work through it.
Share this article
Related Posts