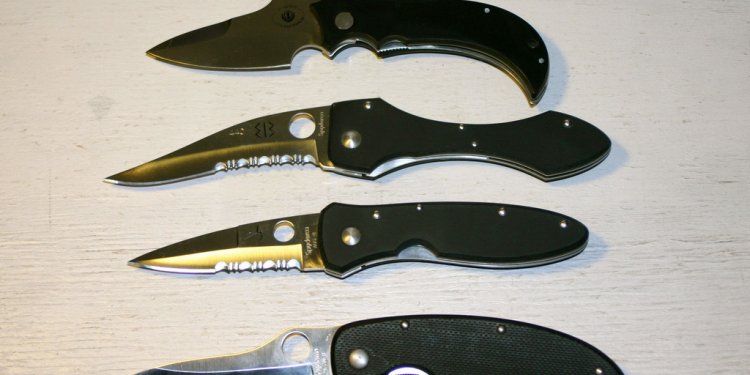 Spyderco Wegner
Anyway, this is why it's so important to keep the proper amount of opening tension on any tactical folder that is carried point up in the pocket, especially any knife that features a wave opening feature. The wave, due to it's shape, can catch on either the inside of the pocket or an object in the pocket and open the knife, if the tension screw hasn't been properly tightened. This isn't a design flaw, but rather user error. It's the user's responsibility to keep the proper amount of tension on the blade, regarding that screw. Emerson probably prefers to situate/position the carry clip for point-up carry in the pocket in order to provide for the greatest speed in drawing and opening the knife. Just be aware of this aspect, if you carry a knife with the Emerson wave. It's a great feature to have on the knife, provided the user is responsible and keeps proper tension on that screw. Before I left SHOT Show 2005, Tim (Wegner) gave me a brand-new-in-the-box Professional Hunter Extreme CE/G10 (black blade) to take home with me for T&E and review. Let's just say it's been riding in my pocket ever since, and I haven't looked back. The Blade-Tech/Wegner Professional Hunter Extreme has become my favorite tactical folder for everyday carry. For me, the knife is just perfect for this role. It's just so easy. I particularly enjoy the knife's sleek feel in the hand, or "sleekness". Because the Professional Hunter Extreme is so lightweight and compact, I sometimes forget it's even there, yet it's large enough for just about any task (i.e. size-efficient), including self-defense/tactical use. I have complete confidence in the knife in this role. The blade is large enough, has a good profile/shape, and is SHARP.
Understand that I've owned and carried some of the best production tactical folders out there, including but not limited to the Emerson Commander, Emerson CQC8/Banana Knife (arguably the coolest and best-designed pure fighting tactical folder), Spyderco Military, etc. Basically, the Blade-Tech/Wegner Professional Hunter Extreme is just a fabulous tactical carry and all-around utility knife, period. If I sound like I'm gushing about this product, you're right. What can I say? It's a great product. If you're looking for the ideal production tactical folder for everyday carry and use, you'd be hard pressed to find a better or more enjoyable example than the Professional Hunter Extreme.
Druthers: If I could modify anything on the Professional Hunter Extreme, I might want to elongate the serrated portion of the combo-edge blade, and make the serrations more Spyderco-like (variable geometry–variable length, width, and angulation). I would also like to see a version of the knife with either full (variable-geometry/Spyderco-type) serrations or serrations up to about a quarter-inch to a half-inch from the tip/point. Also, it would be interesting to see an non-magnetic, all-titanium-bladed version with a carbide-coated edge. That's about it, though.
Share this article
Related Posts