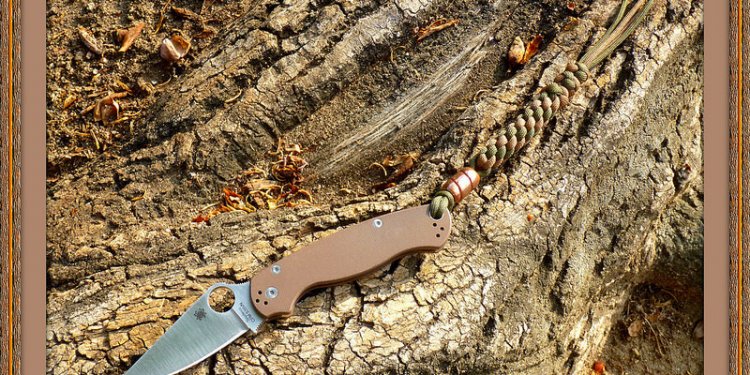 Spyderco Limited Edition
Native 5 Lightweight OIR Knife Lottery for Active Duty U.S. Military
Spyderco's Operation Inherent Resolve (OIR) commemorative knife is a unique, limited-edition version of our standard Native 5 Lightweight model that was specially created for our monthly military lottery drawing. This lottery began with the Native 4 Lightweight and has spanned Operation Iraqi Freedom, Operation New Dawn, and Operation Enduring Freedom. Since we introduced the program in 2003, Spyderco has given away literally thousands of knives to forward-deployed U.S. military personnel to express our appreciation for their dedication, service, and sacrifice.
In June 2014, the United States launched Operation Inherent Resolve—a comprehensive strategy to degrade and defeat the Islamic State of Iraq and the Levant, or ISIL, which includes the campaigns in Iraq and Syria. The launch of this operation roughly coincided with the release of Spyderco's improved Native 5 Lightweight, so it was an appropriate time to renew our military lottery program with a new knife.
Proudly manufactured in our factory in Golden, Colorado, the Native 5 Lightweight OIR commemorative features a spear point blade made from premium CPM S35VN stainless steel. Its full-flat grind, distal taper, textured index-finger choil and thumb ramp, and understated swedge collectively offer a distinctive appearance and outstanding edge geometry and point utility. The CombinationEdge blade features a handsome matte finish and is engraved ("Operation Inherent Resolve" and "We Pray for Your Safe Return."
The blade is supported by a highly refined back lock mechanism that takes this time-tested lock design and elevates it to a new standard of engineering and manufacturing excellence. It is contained within a brown fiberglass-reinforced-nylon (FRN) handle that features Bi-Directional Texturing™ for an ultra-secure grip and reduces the overall weight of the knife to a mere 2.5 ounces. Threaded inserts molded directly into the FRN allow an improved hourglass clip to be positioned for left or right-side tip-up or tip-down carry. A generously sized lanyard hole also provides a handy attachment point for lanyards, fobs, and safety lines.
Spyderco manufactures these extraordinary knives to honor and thank our troops who go in harm's way to defend our Nation's values. They are ONLY available to forward-deployed U.S. military personnel through our monthly lottery drawing. They are not available for purchase.
To enter the knife lottery drawing, please e-mail your information (name and shipping address) to
Share this article
Related Posts