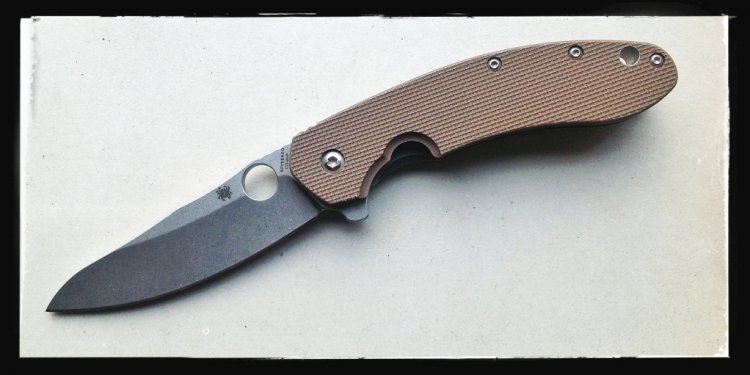 Spyderco flipper Knives
Description
SP206GP: C206GP Introvert
Spyderco
The inspiration for Spyderco's designs sometimes comes from the most curious places. In the case of the Introvert folder, it began with Chris Knutson, a lifelong martial artist, knifemaker and Spyderco enthusiast who originally set out to design a folding version of the Spyderco Swick neck knife that he could carry in areas that did not allow fixed blades. The design ultimately evolved into a truly unique folder that combines a flipper opener, a sturdy lockback mechanism and a Fred Perrin-inspired index-finger hole to create a knife that offers quick one-handed opening and exceptional grip security. Its full-flat-ground blade is machined from VG10 stainless steel and is paired with a handle that features full stainless steel liners, textured G10 scales and a reversible deep-pocket wire clip that offers both left and right-side carry.
The Spyderco Introvert is a unique accomplishment in folding knife design. The brainchild of a chemistry teacher and long-time Spyderco fanatic named Chris Knutson, it is the world's first lockback flipper-opening folder. Its fascinating history and development, however, go much deeper than that.
Knutson began studying the Filipino martial arts at an early age. In addition to martial arts skills, his instructors also taught him an appreciation for high-quality knives—especially those from Spyderco. Based on that influence, he bought his first Spyderco knife—a Snap-It—when he was only 12, and has been a loyal enthusiast ever since.
As a young adult, Knutson discovered the Spyderco S.P.O.T. (Self-Protection Options Tool)—a compact fixed-blade knife that featured a prominent index finger hole in the forward portion of the handle. Pioneered by French custom knifemaker and martial artist Fred Perrin, this brilliantly simple feature locks the knife firmly into the user's hand, providing extreme grip security and allowing full dexterity of the fingers without having to sheath the knife. Knutson was captivated by this design element and even more enthralled with Spyderco's release of the Swick—a very similar fixed-blade design produced in limited quantities for consumer-direct sales.
To Knutson, the Swick was the perfect knife. Unfortunately, his profession as a chemistry teacher did not allow him to carry a fixed-blade in a university environment, so he set about designing a folding version of the Swick. Using plastic, dowels, and his girlfriend's broken hairpin as a spring, he created a working model of the design that he later shared with Spyderco's founders at the Oregon Knife Show. They were intrigued by the uniquely different concept and ultimately decided to produce it as a factory knife. The Introvert was born.
The Introvert is an unorthodox folding knife that combines a flipper opener, a sturdy lockback mechanism, and generous index finger hole to create a flipper opening lockback folding knife. Its blade is precision machined from VG-10 stainless steel and features a sweeping PlainEdge cutting edge and a full-flat grind for outstanding edge geometry. In the open position, the blade's Perrin-inspired index finger hole anchors the knife into the user's hand to ensure superior grip security. When the knife is closed, the leading edge of the hole also functions as a flipper, allowing the blade to be swiftly opened with a stroke of the index finger. The blade also includes a fully functional Trademark Round Hole that supports traditional thumb openings and proudly identifies it as a Spyderco product.
Share this article
Related Posts