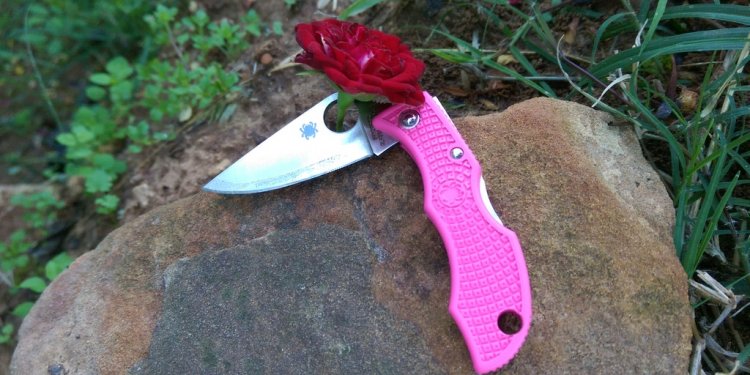 Spyderco Factory Outlet Store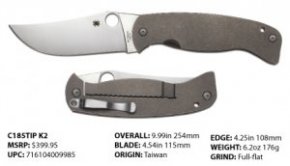 Farid Mehr is a British custom knifemaker who is best known for his hollow-handled fixed-blade survival knives and heavy-duty, hard-use folding knives. A full-time maker, he also crafts custom-made leather and Kydex® sheaths and makes a variety of other custom knives to meet his customers' needs and interests.
Strength is the most prized quality of most of Farid's knife designs, so his folders tend to be large and boast stainless steel or titanium handle scales and Reeve Integral Locks (R.I.L.). He also has a penchant for using exotic blade steels with reputations for edge holding and toughness. One of his most popular models is his K2 folder, which is slightly smaller and lighter than many of his other designs without sacrificing the key qualities that make his knives unique. It was therefore the ideal choice for his first collaboration with Spyderco.
The K2 is a generously sized folding knife designed to withstand the rigors of serious cutting chores. Just shy of 10 inches (254mm) overall, it features a 4.53-inch (115mm) blade ground from CPM® 10V®—the first high-vanadium tool steel made using Crucible® steel's Powder Metallurgy process. CPM 10V's toughness and machining characteristics are comparable to D2 and M2, but it's impressive 9.75% vanadium content gives it extreme wear resistance. In a knife blade, this translates to superior edge retention—a highly desirable quality for a hard-use folder.
To balance the strength of its broad Bowie-style blade, the K2 features a full-flat grind that tapers over its entire width to a keen PlainEdge™ cutting edge. The blade's spine is also precisely radiused near the handle to provide a comfortable bearing point for the thumb during demanding cutting chores. An amazing synthesis of strength and cutting performance, the K2's blade also features Spyderco's Trademark Round Hole™ for positive one-handed opening.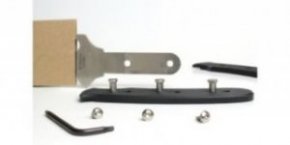 The K2's handle is also a study in strength. It consists of two extremely stout scales machined from solid titanium. The reverse scale forms the foundation of the knife's sturdy Reeve Integral Lock (R.I.L.) and faithfully includes Farid's signature serpentine cut on the lock bar. The lock bar's relief cut is also made on the outside of the handle scale to create a straight-line force vector to the blade's tang ramp for maximum lock strength. Like all well-made R.I.L. knives, the K2 to is designed so a firm grip on the handle actually reinforces the function of the lock and greatly reduces the chances of unintentional lock release during use. Despite the K2's impressive size, it is easily and conveniently carried by virtue of a stainless steel pocket clip that positions the knife for right-side, tip-down carry. In this position, the knife is drawn pivot-end first, leaving your hand perfectly positioned for a smooth, one-handed opening. For users who prefer extra security or enjoy accessorizing their knives, the K2's handle also includes a generously sized lanyard hole for easy attachment of fobs or lanyards.
Spyderco's K2 combines the durability and heft that characterize Farid Mehr's custom knives with the refined details that define Spyderco's commitment to reliable high performance.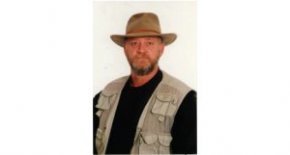 NOT THE SAME OLD GRIND
The performance of a knife as a cutting tool is determined by many factors. While the most obvious—blade steel and heat treatment—do have a profound impact on cutting performance, the grind of the blade is equally important. And when it comes to choosing a knife that is appropriate to your needs and style of knife use, understanding blade grinds and the edge geometry they provide is critically important.
The grind of a blade is basically the shape of its cross-sectional profile—what you would see if you cut a blade in half and looked closely at the cut end. This profile is created by the grinding process that produces the primary blade bevels and is determined by shape of the grinding media and the mechanics of that process.
In simple terms, there are three basic types of primary blade bevels: flat (a perfectly flat plane), concave (curving inward), or convex (curving outward). They can also extend the full width of the blade or only part of its width, leaving the spine of the blade full thickness for maximum strength. In most cases, the primary blade bevels intersect with a set of secondary bevels that form the blade's actual cutting edge; however, some grinds—such as the Scandinavian or "Scandi" grind—the primary bevels actually intersect to form the cutting edge. This style of blade is often referred to as having a "zero ground" edge.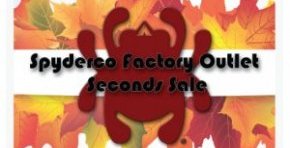 Blade bevels are critically important to the cutting performance of a knife because they determine the amount of resistance a blade experiences while passing through a material. Think of a knife blade as a wedge. Thin wedges separate materials gradually and typically offer less resistance. Because they are thin, they are also weaker. Thick wedges split materials quickly, but meet greater resistance as they do. They also offer greater structural strength. Optimal blade geometry is therefore a matter of balancing the resistance experienced while cutting with the strength of the blade relative to the tasks being performed by that knife.
Since most blades have secondary bevels to create the actual cutting edge, one other important—but often overlooked—aspect of blade geometry is the terminal thickness of the primary bevels. In other words, how thick is the blade where it transitions from the primary bevel to the secondary bevel of the actual cutting edge. While a thicker blade will offer greater strength, it also creates an abrupt transition from the cutting edge to the primary bevel, increasing resistance. Increased thickness at this point also requires that the secondary bevels of the cutting edge are wider and can shorten the useful life of the knife over repeated sharpening.
The three most common blade grinds used by Spyderco are the following:
Saber Grind: This is a partial flat grind. The upper half of the blade is left full thickness for strength, and the primary blade bevels are ground flat on the lower half. Secondary edge bevels create the actual cutting edge. This style of grind offers maximum strength, but the trade-off is increased resistance during cutting. Saber grinds also cannot be sharpened as many times as other blade geometries.
Full-Flat Grind: As its name implies, a full-flat grind features flat primary bevels that extend the full width of the blade. Again, secondary edge bevels create the actual cutting edge. The wide, flat bevels of this grind greatly reduce friction and allow full-flat-ground knives to excel at slicing chores. That's why this grind is typically used on kitchen knives. Full-flat-ground blades are also...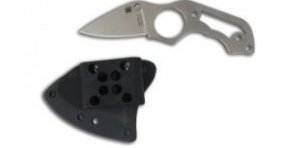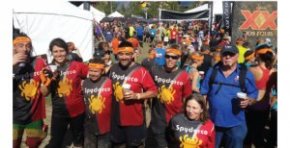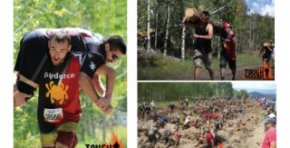 Share this article
Related Posts