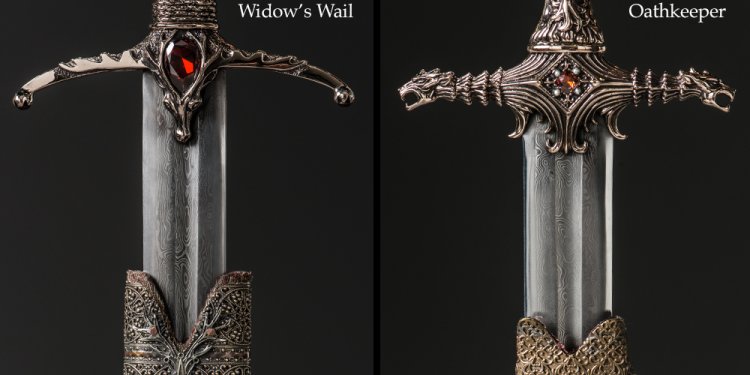 Oathkeeper replica
Welcome to Valyrian Steel. Your source of officially licensed replica weapons and armor from HBO® 's hit TV series Game of Thrones®, and George R.R. Martin's A Song of Ice and Fire book series.
Reviews / Comments
"I just received my limited edition Oathkeeper Damascus. There is only one word I could come up with to describe it. Magnificent. The blade is incredibly dark, showing the quality of the Damascus steel. The hilt and guard are beautifully detailed, and the gemstone almost looks real. Despite the production delays, the sword was totally worth the wait. It is the crown jewel of my collection."
"Just an FYI: For those of you who own the Longclaw Scabbard, Oathkeeper (mine is the damascus version) fits perfectly like a glove into the Longclaw Scabbard. So until V.S. creates a scabbard specifically for Oathkeeper, this is a perfectly viable option. P.S.- Please correct me if I\'m wrong, but the two fit together so well that I would find it hard to believe that doing this would cause any harm to either piece. However, if I am wrong please let us know. The last thing I would ever want is to see anyones beautiful swords and scabbards damaged in even the slightest way due to mishandling on my part."
"Just received 122 as a Christmas present from my wife and love it. As everyone says the blade is darker than the other swords but polishes up nicely."
"A wonderful addition to our collection. very beautiful and I like the darkness of the blade."
"Just an absolutely stunning sword. The damascus pattern, even darkened, is striking. The balance is excellent and the assembly of the handle is nearly seamless. All in all an excellent piece."
"This is the second sword that I have bought from this site and was not happy with what I received, it had very noticeable etching marks all over the blade, I live in England so I knew it would not be cheap and easy to get replaced, after speaking to the company within a couple of weeks I had a replacement in my hands without having to pay a penny for shipping costs, in the end the replacement is in perfect condition and looks magnificent, some of the best customer service I have ever received and would recommend anyone to shop here."
"I received my sword, it is very nice but a little dark. I try to polish it with metal polish gel, and I get a beautiful blade with damascus veins! pictures: you guys who feel blade is too dark, You could try this way ! "
"Quite a beatufil sword. The blade is very dark, almost black, which is fine. However, the dark blade doesn\'t display the Damascus pattern too well. The pommel, hilt and cross guard are very nicely detailed. Aesthetically it is a gorgeous sword. The sword feels a little awkward in the hand as there is no real grip, and doesn\'t feel nicely balanced. Although is doesn\'t feel like it would be an exceptionally functional sword, it is a gorgeous ornamental piece and makes a great keepsake for any game of thrones fan."
"I was a little disappointed when this first arrived as I couldn't really make out much pattern on the blade. One polish over and 15 mins re etching time and this piece is stunning!!! Little bit of blade wobble and I had to do a "finishing touches clean up" hence the four stars but it is a display piece after all. Now very happy with this and I fear Valyrian Steel's Damascus blades will be the death of my bank account!!"
"What an exciting piece to have in your sword collection. As a Game of Thrones fan, definitely, this is a "must have." Good quality, nice weight, oiled and ready to mount. This limited edition piece was worth the production time and is a special work of art. So far, this is my favorite replica from Valyrian Steel. Great Job! and Thank You!"
"The sword I received has a very dark blade, much darker than what is pictured. As an estimate/point of reference, I've done a quick & dirty color correction on the blade from one of the above product images to more closely resemble the shade of the blade that I received: a heads up for those who might not be keen on dark blades. "
"The sword has some great components, but the final finish on the blade left a lot to be desired. I wrote to the team and they walked me through how to removal the pommel. Once I had the blade free I sat down with various grits of sand paper (250-5000) and put a good polish on it. I'm not done yet, but once it goes through the acid bath (to bring out the swirls), it will be what I was looking for."
"this is another great sword for the collection. Very different to ICE which was huge and I gave a five-star. This is impressive and a must have. Definitely worth the wait."
Share this article
Related Posts