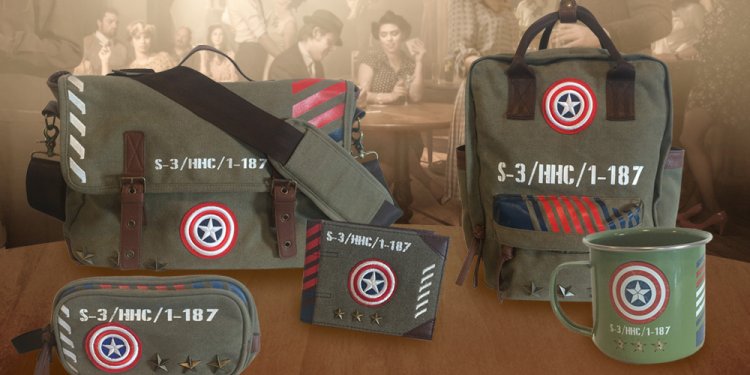 Vintage Military Gear
Military jackets have long been worn by non-military personnel for their aesthetic, symbolic, and functional qualities. In fact, military outerwear has historically dictated trends in civilian men's and women's clothing. The widespread imagery of soldiers in uniform popularized these garments, while the institutional focus on specific designs codified the style. Then there are the utilitarian aspects of these pieces; they are often both water-repellant and warm, making them practical as well as fashionable choices for everyone from rebellious youths to button-down professionals.
In general, military jackets and coats are divided into two categories, dress and fatigue. Dress uniforms are worn for special occasions and decorated with insignia or awards. Fatigues are used on a daily basis to perform all manner of duties. Today, popular military jacket styles come from both dress and fatigue uniforms worn throughout the history of modern warfare.
Pea coats, which are worn these days by men and women alike, were first produced for sailors in the European navies of the late 1700s. Originally termed P-jackets for the coarse twill pilot's cloth used in their manufacture, these coats were most commonly made of a fabric called Melton wool, named after the English town of Melton Mowbray where the material was made. Pea coats are generally identified by their dark navy blue color, wide lapels, and double-breasted front with large decorative buttons, which often bear an anchor imprint. Fashionable 20th-century manufacturers include Sterlingwear and Fidelity, both of Boston, Massachusetts.
The first American Army uniform policy was drafted in 1779. A "blue, open waistcoat" was described in the standard dress code, yet divisions among states and differences in regional resources resulted in a wide variety of military clothing. Military jackets from this period are generally characterized by their blue color with gold buttons and contrasting red trim. Conversely, the British uniform of the period featured a red-colored jacket with white or blue facings, thus spawning the slang term Red Coats used during the Revolutionary War.
The Civil War presented the first opportunity for Americans to establish true military uniform regulations; blue fabric was used for Union uniforms, gray for the Confederacy. Jackets of this era tend to be characterized by their knee-length woolen tails, long row of closely spaced gold buttons down the front, gold piping or embroidery, and a simple stand-up collar. Intricately crafted metal buttons often identify the coat's manufacturer, while differing shoulder straps denote the officer's rank.
As the rules of battle and technologies of war shifted at the beginning of the 20th century, military uniform designers moved away from brightly colored dress uniforms and toward clothing that was less expensive to produce and less visible to the enemy. In the late 1800s, British troops first donned khaki uniforms, derived from a regional fabric British Indian recruits wore in the Peshawar district of India. These khakis became the official uniform during the Second Boer War, and the material quickly spread among many other militaries and expanded into all types of clothing production. Khaki-colored jackets made from a variety of fabrics have been worn in every major conflict of the 20th century.
Debate over who originated the iconic trench coat still ensues, as both Burberry and Aquascutum of England claim the style. Thomas Burberry created a durable, waterproof fabric he called gabardine in the late 1870s, which was later used in the design of Burberry's classic "officer's raincoat" in 1901. Aquascutum's claim dates to the 1850s and the Crimean War. Regardless of its actual inventor, this innovative outerwear was manufactured by both companies for soldiers during World War I. After the war, civilians swiftly adopted the style...
The familiar jacket many associate with the standard military look that we think of today was developed during World War II. These coats usually featured olive green fabric with a single row of buttons down the front and breast pockets on each side. In 1942, the U.S. military began a program to establish functional uniform guidelines for combat divisions anywhere in the world. Modeled after British military attire, the resulting M-1943 outfit was designed for cold weather and worn by U.S. troops during the invasion at Normandy.
One piece in the ensemble was a hip-length semi-dress jacket made from olive green wool that could be worn formally or in combat. These coats came to be known as "Eisenhower" or "Ike" jackets, as they were used by General Dwight D. Eisenhower, who also wore them after the war while he was president. Since the coats were meant to be worn under a water-repellent outer layer and over various undergarments, their sleeves were baggy and they were loose fitting in the back. Ike jackets were frequently adorned with various patches, pins, or service stripes signifying the owner's rank and military achievements.
World War II also saw the rise of the leather bomber or pilot flight jacket, a style most closely associated with the Type A-2 jacket, which was officially adopted by the U.S. Air Force in 1931. The U.S. Air Force Catalog from the era describes the jacket as "seal brown horsehide leather, knitted wristlets and waistband (skirt)." It was produced for the Air Force by companies like Werber Sportswear and Aero Leather Clothing Co. In the 1980s, the style was reissued by the Air Force to wide acclaim, yet the cut was less fitted and the jacket proved less durable than the original A-2s.
High-altitude flight crews often wore the B-3 Shearling Bomber Jacket, which was originally designed in 1926 for the British RAF by parachutist Leslie Irvin. As World War II progressed and aviation technology improved, flight altitudes increased, exposing pilots and crews to lower air temperatures. Thus the F2 Heated Flight Jacket, which consisted of a wool shell surrounding electrical heating devices.
Regardless of model, these flight jackets were frequently personalized with detailed artwork beyond just the wearer's troop or rank—for many contemporary jacket collectors, the more individualized and detailed the artwork, the more valuable the jacket. Individual servicemen often customized their jackets with images ranging from pin-up girls and Donald Duck to tallies of bombs dropped and battlefield kills.
The MA-1 Nylon Flight Jacket was released in 1955, and later redesigned by Alpha Industries to include an orange lining for reversible wear during search-and-rescue operations. Alpha revamped many classic flight jackets from the late 1950s onward, and is today the largest supplier of outerwear for the U.S. Military.
Marching-band-style jackets are also closely linked with military uniforms. These bands were developed at the same time as early armies—their purpose was to direct troops and give signals on the battlefield. Contemporary marching-band uniforms are strikingly similar to those worn during the Revolutionary War era, complete with detailed armbands and rows of elaborate facings.
In 1967, The Beatles' "Sgt. Pepper's Lonely Hearts Club Band" album cover instantly popularized a highly decorative military-band-style jacket, a double-breasted look complete with ornate, contrasting piping designs across the front and sleeves, with epaulets on each shoulder.
Standard issue M-65 Field Jackets from the Vietnam War era are the most widely available vintage military jackets today. Made of a lighter olive-green canvas than their predecessors and fitted with plastic zippers or buttons instead of metal ones, M-65s featured cargo pockets and were generally unpersonalized since rank insignia was simply pinned onto the jacket rather than sewn.
Share this article
Related Posts