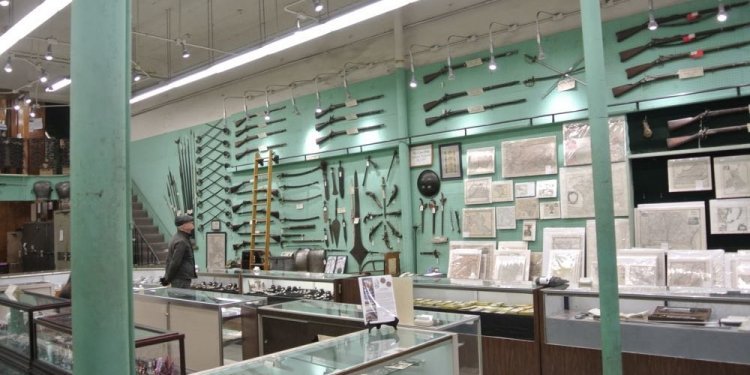 Antique Gun store
In 1962 Las Vegas gun collector and local gun store dealer Harry Mann, looking for ways to expand his business, put a small gun show together at the Stardust Hotel. Fifty three years later, that simple idea has developed into the world's great Arms and Armor collector's event.
Under the stewardship of renowned collector, dealer and publisher, Wallace Beinfeld, the Las Vegas Antique, Sporting Arms and Custom Knife maker's Show brings together hundreds of dealers, makers and collectors. Where else can one find the knowledgeable dealers, thousands of fine and historical firearms and handmade quality knives in the quantity and price range as can be found at the Las Vegas Show?
Unique in the industry, the Show attracts Collectors, interested legislators, members of many Governmental agencies, Hollywood personalities, collector organizations and dealers from around the world.
Recently acknowledged as the "Longest continuing running event in Las Vegas, " 53 years, plans exist for several years into the future at the Riviera Hotel's 95, 000 square feet convention center.
When Harry Mann died in 1969, the Sahara's management asked Wally Beinfeld to take over the Show Producer's role. Beinfeld had shown award winning displays for several years, had helped to found collector's organizations and was actively involved in developing new markets for firearms.
As a member of Colt Firearm's product development committee, Beinfeld had the opportunity to meet and work with many key marketers. Contacts that would help increase the size, scope and impact of the Las Vegas Shows.
Traveling the country, attending ten or twelve Gun Shows a year, personally working with collector organizations to expand their reach into the market, under Beinfeld's stewardship, the Las Vegas Show began to grow in size, scope and prestige. In 1969, the Show was held in a four thousand square foot room. About 50 exhibitors and collectors set up and one hundred members of the public came to see Herb Glass, Arnold Chernoff, Jim Serven, John Malloy, Norm Flayderman, Bob Cherry and many of the other "Giants" of the industry.
Today, more than six hundred exhibitors offering or just showing fine merchandise, a dozen collector organizations, manufacturers of quality sporting arms, more than a hundred custom handmade knife-makers and several thousand interested collectors join together at the Winter Show. You can still meet some of the "Giants" as well as more contemporary great dealers, Mitch Luksich, Greg Martin, John Gangel, Mike Clark and dozens more.
Happily, the participation of "Giants" of the industry at the Show has paralleled the growth in size and scope of products offered.
Share this article
Related Posts