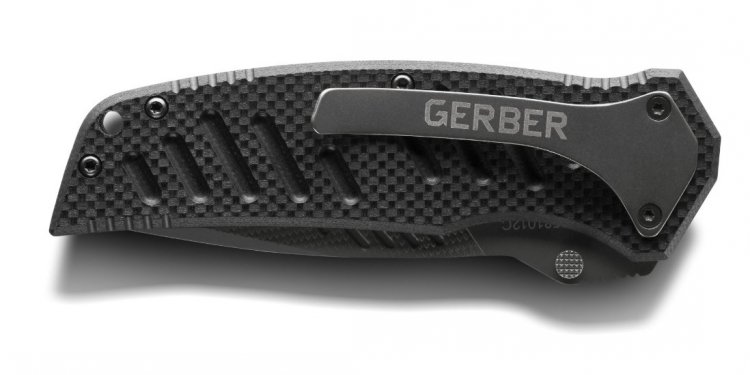 Gerber Swagger
Bigger is not always better, and the right tool for the job is often the one that's easiest to carry. This is where the Gerber Mini Swagger Assisted Opening Knife comes into play. Modest in size but big on quality features, this small knife has the same genetics as its big brother, scaled to suit smaller hands and those who like a tool to virtually disappear in their pocket.
Given its decades of experience crafting knives, Gerber knows that a reliable everyday tactical knife needs to offer more than a sharp edge and a stealth finish. It needs to open quickly and easily, be gorilla tough, and make short work of varied materials and stubborn knots. It should also offer the balance of a nicely weighted skipping stone and feel as good in your hand. The Mini Swagger meets these demands.
SMOOTH OPENING
Despite the knife's modest size, you still get the utility of a 2.75-inch blade and the silky-smooth performance of Gerber's Assisted Opening 2.0 technology. Simply lever the thumb stud, and the assisted opening engages to open the blade quickly and positively. The reliable plunge lock keeps the blade fixed where it belongs and makes for safe closure when you're ready to stow the knife in your pocket.
PARTIALLY SERRATED DROP POINT STYLE
Just like its big brother, the Mini's drop point blade can do it all by offering a fine edge that's ready to rise to a critical occasion. Its black titanium nitride coating lets you maintain a low profile where the reflectivity of a standard stainless knife might give you away. And when it comes to keeping your blade sharp, the drop-point style is easy to maintain.
LIGHT IS RIGHT
The G-10 composite handle is as durable as it is lightweight. Lighter than a handful of change at 1.8 ounces, the Mini Swagger's slim profile comfortably disappears in your pocket or on your belt, but it's stout enough to deliver when you need it most. There's a lanyard hole at the pommel and a utilitarian pocket clip to help keep your knife within easy reach.
Share this article
Related Posts