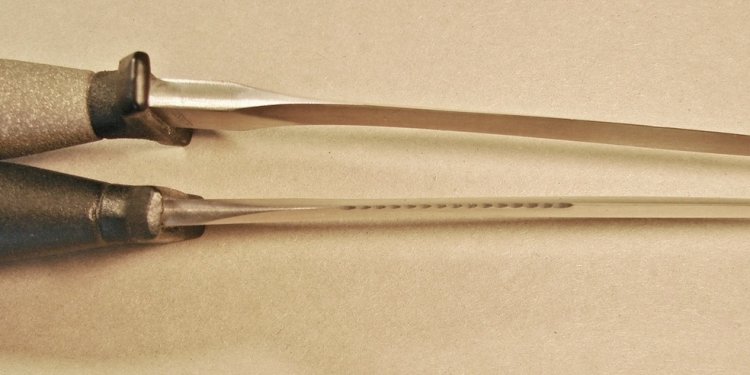 Gerber fighting Knives
I bought mine in early 1970s (1972) and still have it s# 029709 the leather sheath wore out at the top but not what holds the knife and sharpener. I had taken this knife beyond the call of duty, even in salt water.
Over 30 years and the best blade I have ever had.
I bought mine from the PX while a cadet. I still have her. A little worn, but very functional.
I bought one of these in 1971 and used it as a jump knife. It had a nice leather sheath. I actually used the serrated part to cut through a bolt! Four years ago I gave it to a young Marine who was being deployed to Afghanistan. He still has it.
Inherited mine from my Grandfather (ret. MC). after seeing the serial number I just had to look it up. 1969. Worn and scratched, but still a sharp, functioning blade. 47 years old and here it is attached to the front of my kit in Baghdad, Iraq. Feels good to have something so classic and old school among all these super tactical tanto folding hacksaws everyone seems to be buying these days.
My father purchased the Mark I for me in May, 1967, serial number 1036 for $25. I carried it while at Dong Tam RVN supporting the river assault group. I always felt the knife was not completely secure in the leather case so put a loop of shot line around it to insure I didn't drop it in the river. I used it as a very good tool for all things Gunner's Mates do and never had to use it as a combat knife. I still have it and keep it safe and secure.
had a mark ii in afghan lasted with me the whole tour till time to come back home and someone needed it more than i did. loved the knife and used it to settle a few conflicts
I would like this knife with out the serrations on the blade. The serration are fine for cutting ropes or nylon, but I have a good rope knife.
Share this article
Related Posts