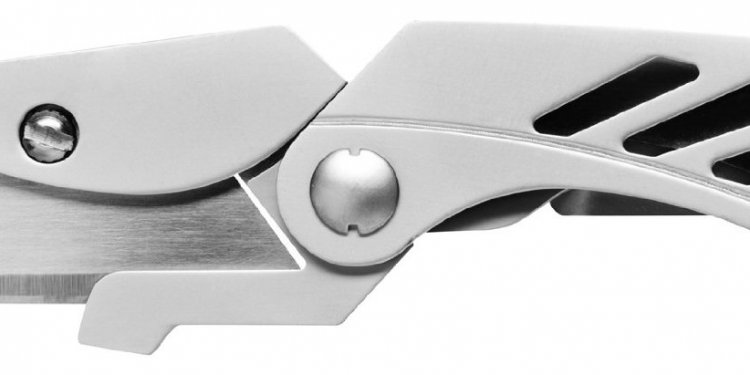 Gerber EAB G10
If you want a strong pocket knife, you could pay over $100 on a modern model to get something that is sharp, lightweight, and strong. A more affordable and viable option to consider, however, is the Gerber EAB Lite. It doesn't have the strength of the Gerber Covert FAST, but it does have the constructive strength of the Gerber name behind the knife.
Why Choose the Gerber EAB Lite?
This contractor-grade pocket knife offers a secure grip with a lighter knife. Weighing just 2.5 ounces, folds up easily and can also double as a pocket clip or a money clip if so desired. It has a standard opening and locking system as with the Gerber Freeman S30V, letting you be able to quickly open it up and use it for your preferred task.
The blade on the Gerber EAB pocket knife is more reminiscent of a razor blade or a utility knife than an actual formed knife. The blades are interchangeable with this knife as they are held in place with a single screw. This provides a benefit to the user because a dull blade can simply be replaced, but the screw does have a reputation for working itself loose or breaking over time.
When the knife is fully open, the total length is just 5.1 inches, so it is a tight, compact package. The blade length is just 1.5 inches, partly due to the fact that there's a tang that protects and secures a portion of the straight razor. When folded up, the Gerber EAB light is just 2.85 inches in length. Made from stainless steel, you won't have to worry about tarnishing or corrosion.
How Good Is the Handle of the Gerber EAB Lite?
The handle of the Gerber EAB Lite is also made of stainless steel and offers a strong grip that is pretty equal to the Gerber Answer FAST. There are deep finger grooves that have been included in the design for added grip and the grooves also provide a nice aesthetic appeal for the pocket knife. It's a polished stainless steel without any artificial coloring or rubber gripping added to it.
Carrying the knife is pretty simple. You can just throw it into a pocket and forget about it. The Gerber EAB G10 also clips to a pocket for added stability so you don't have a knife floating around and bothering you. If you want a quick place to stash a few bills, it doubles as a clip too. It works well for cutting boxes or for some basic slicing tasks, but that's about it. This pocket knife is not an outdoorsman's knife like the Gerber Warrant knife tends to be.
Like this knife, then choose one
Instead of sharpening, you're going to just replace the blade of this utility knife when it grows dull, much like an X-ACTO knife. Crafting applications would also work in some limited fashion. Retailing for around $15, it offers a number of key features that anyone would love.
If you are used to using a steak knife or other kitchen knife for some basic tasks, then the Gerber EAB Lite is a good little pocket knife to own. Although the screw that holds the blade is a little fragile, overall the construction of this knife at this price range is pretty solid. This makes it a decent investment if you need such a tool.
Share this article
Related Posts