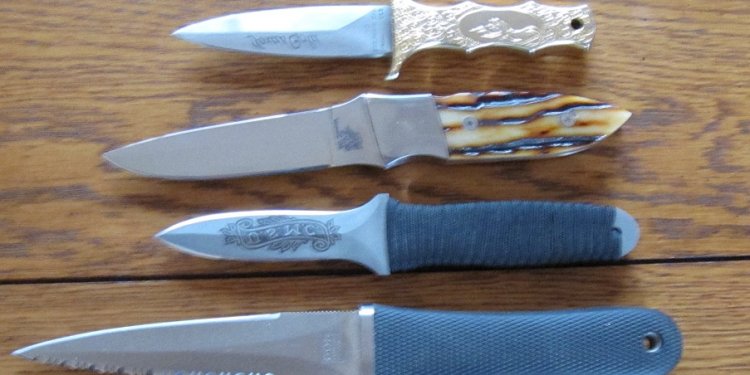 Gerber Boot Knives
Good knife for EDC, the blade and handle could be a little wider.I have a Gerber 06 fast for my EDC daily tasks, it has an intimidating look with the wider blade.I guess I'm just used to the way that knife looks. I will be carrying the guardian tanto as an EDC self-defense knife
This is a boot knife not to be worn on the belt. When this knife arrived I first thought it was a bad qualitie knife but I had to have it because of its tough style. Turns out this knife is great for mush survival needs as well. I know this because I will go out for 1 week at a time and survive. Also good for work arond the farm great knife totally worth the price please put this up gerber people need to know this so they can choose between knives.
I love the knife with its cwoalety grin and blade and the sheath lock and clip keep the knife in well and nice!
Good knife, nice and small feels good in hand but while the sheath is adjustably it could use some work. If the blade isn't just right it could fall out but as long as you double check you're all good.
Found this, by accident, when looking for an inexpensive, fixed blade with a ~ 4" blade, made in USA, for EDC.
Why 3 stars then?
I'd rather have a 'better' sheath meaning one without the "gripper" function this has. Maybe something with a ramp/lip like some dive knives have to secure the blade. I love how slim it is. I hate the retention method.
The other thing I would like to see is a way to horizontally mount the knife/sheath for more discreet carry along the belt line.
this knife is a little pricey
What a nice blade. Came pretty sharp but I gave it a nice once over with my DMT Diafold. I could shave with it. Holds an edge beautifully. Nice job Gerber. It's in my boot every tour.
Very useful knife great for everyday belt knife of boot wish you had the partial serration on front half of top side if the knife and just one long blade on the other
A little pricey but besides that great light weight knife. Excellent for everyday carry.
This is a great knife. Holds a good edge and is very good for it's price. I would say though that because the blade is so short it should come without the teeth. I find the teeth to be annoying then useful on a knife this short. Otherwise it's a great knife.
I think this knife is great it holds an edge very well, the handle has a lot of grip to it. I bought this knife to fit in my boot unfortunately the clip in the sheath does not provide enough of gap, in other words my boot is to thick. I still wear it on my belt though because it sits high enough to be mostly concealed by a T-shirt and is a good all around knife.
I've owned several of these over the years each model year is just as good as the last, and lasts for years of use.
Share this article
Related Posts